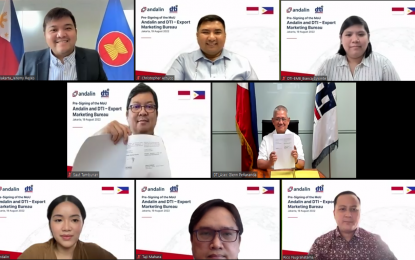 MANILA – The Philippines aims to join other Southeast Asian countries to use the digital platform for borderless international trade through a partnership between the Department of Trade and Industry (DTI) and Jakarta-based Andalin Trade.
In a statement Tuesday, DTI-Export Marketing Bureau (DTI-EMB) said it signed a memorandum of understanding (MOU) with Andalin Trade to promote onboarding Philippine exporters in the digital international trade platform to boost trade in the region.
"Through Andalin Trade, we hope to encourage our exporters to look for new markets and partners and boost the confidence of would-be exporters in engaging in cross-border trade. We aim to conduct joint briefings with exporters to promote onboarding in Andalin Trade" DTI-EMB Director Christopher Lawrence Arnuco said.
Andalin Trade, which has presence in 200 global ports and 200 partners worldwide, is the largest freight forwarding company in Southeast Asia.
"The Philippine Department of Trade and Industry is aggressively pursuing partnerships with export enablers, such as Andalin that can provide digital turnkey services to our exporters, from searching potential buyers to providing shipping and payment options, and that can serve as catalysts in deepening Philippine participation in global value chains," said DTI-EMB Supervising Assistant Secretary Glenn Peñaranda.
In a forum in Singapore last month, Andalin launched the Andalin Trade which aims to provide a secure and seamless digital process for international traders.
Asean countries like Singapore, Thailand, and Vietnam have already partnered with Andalin.
"Andalin Trade enables international trade buyers and sellers to connect easily and safely on our platform in a more safe, transparent, and efficient way. Buyers and sellers can join Andalin Trade for free; they only need to pass a strict selection and verification system to ensure all parties can maximize the platform as much as possible," Andalin chief executive officer Rifki Pratomo said.
Data from the Philippine Statistics Authority showed that the country's trade within Asean for the first half of 2022 reached USD24.03 billion, with USD19.58 billion in imports and USD4.45 billion in exports. (PNA)