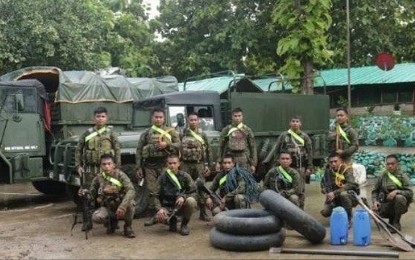 MANILA – The Philippine Army (PA) on Tuesday announced it has already mobilized humanitarian assistance and disaster response (HADR) teams along with their equipment to help in areas now being battered by Severe Tropical Storm Florita.
"The PA, through the 5th Infantry Division (5ID), mobilized HADR units and equipment as Severe Tropical Storm Florita barrels towards the coastal areas of Cagayan and Isabela provinces on August 23, 2022," Army spokesperson Col. Xerxes Trinidad said in a statement.
He said the 501st Infantry Brigade already deployed HADR teams and equipment in the towns of Lal-lo, Lasam, and Rizal in Cagayan province, and in Flora town, Apayao.
The 77th Infantry Battalion and the 17th Infantry Battalion, on the other hand, marshaled HADR teams that are now on standby in the towns of Alcala, Baggao, Gattaran, and Santa Teresita, all in Cagayan.
"For its part, the 502nd Infantry Brigade, 5ID mobilized HADR teams in the towns of Echague, Isabela while the 86th Infantry Battalion and the 95th Infantry Battalion prepared HADR teams in the towns of Jones and San Mariano and the City of Ilagan in Isabela," Trinidad said.
Meanwhile, the 503rd Infantry Brigade and its line units likewise mobilized HADR teams and equipment in disaster-risk areas of Kalinga province.
Trinidad said ready reserve units in the region are also on alert.
"The 202nd, 203rd and 204th Community Defense Centers of the 2nd Regional Community Defense Group mobilized reservists who will be deployed for possible rescue and relief efforts in Isabela, Quirino and Nueva Vizcaya provinces," he added.
PA troops and reservists, hand-in-hand with other government agencies and the private sector, have been playing a key role in the rescue, relief and rehabilitation efforts for communities affected by volcanic eruptions, earthquakes, floods, and typhoons that batter the country. (PNA)