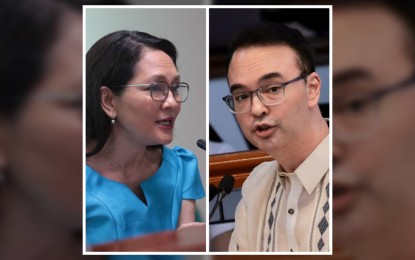 MANILA – Senators Alan Peter Cayetano and Risa Hontiveros argued over rules during the election of the members and officers of the Commission on Appointments (CA) on Tuesday.
Hontiveros questioned Cayetano's election as CA Minority Leader and pointed out that the latter belongs to the independent bloc.
Senators Aquilino Pimentel III and Hontiveros are the only members of the minority.
"There has been a change of term here on the CA floor. But just for the record, the history is clear kasi sa kasaysayan naman po tayo nagbabatay ng mga usapin ng tradisyon (because it is history where we base our discussions on tradition)," she said.
Cayetano said Hontiveros' interpretation that there has been a change of nomenclature is inaccurate.
"The nomenclature or the labeling is based on the Rules of the Senate. Based on the Rules of the Senate, if I'm not mistaken, in the House (of Representatives), it's the same. If you vote for the Senate President, you are in the majority. If you do not, you are in the minority," Cayetano said, emphasizing the difference between the rules of the Senate and CA.
Hontiveros said it concerns her that Cayetano, an independent senator, is voted as CA Minority Leader.
"It is important for bodies such as these to have clarity as to the positions of each member. This is important for lines of accountability and important to ensure that we have a genuine minority voice," Hontiveros added.
Cayetano said he has been consistent with his advocacies.
"I think both Senator Risa and I just found it an important thing to clarify and thank you for the time. Maybe when we are in the process of looking at the qualifications of the nominees of the President, you will also give the minority this leeway of having a little bit more time," Cayetano told Senate President Juan Miguel Zubiri, who chairs the CA.
The senators who were elected as CA members were Nancy Binay, JV Ejercito, Francis Escudero, Jinggoy Estrada, Christopher Go, Loren Legarda, Imee Marcos, Grace Poe, Francis Tolentino, and Cynthia Villar from the Majority bloc, and Hontiveros, representing the Minority.
On the side of the House of Representatives are Ramon Guico Jr. as Vice Chair; Luis Raymond Villafuerte, Jr. as Majority Leader; Rodante Marcoleta as Assistant Majority Leader; and Jose Padiernos and Johnny Pimentel as Assistant Minority Leaders.
Although its membership is confined to the members of Congress, the CA is an independent constitutional body that is separate from the legislature.
The CA has the power to approve or deny the appointment of any presidential appointee. (PNA)