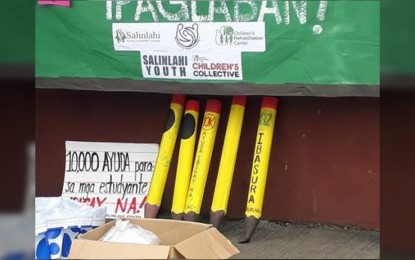 MANILA – The National Task Force to End Local Communist Armed Conflict (NTF-ELCAC) stressed that protest actions outside schools and educational institutions disturb learners, students, teachers and the public.
Freedom of expression and the right to protest are not absolute rights, according to NTF-ELCAC spokesperson Flosemer Chris Gonzales on Tuesday.
Gonzales said protesters masquerading as child rights advocates should not be tolerated as he commended the Quezon City Police District for taking prompt action outside Corazon Aquino Elementary School in Barangay Batasan Hills during the opening of classes on Monday.
"These rights are governed by laws and it is a basic rule that in the exercise of these rights, the rights of other people must not be disturbed as well," Gonzales said said in a statement.
"To hold a protest action in front of a school while classes are about to start definitely disturbs the peace and order. It violates the rights of the students to a peaceful and stress-free learning environment," he added.
The police dispersed the protesters, led by Salinlahi Alliance for Children's Concerns Inc., after the Batasan Police Station 6 received a complaint from a concerned citizen at about 6:30 a.m.
Brig. Gen. Nicolas Torre III, QCPD Director, said the group initially asked permission from the Police Assistance Desk to distribute alcohol and school supplies to students near the school gate.
Torre said that the group's real intention was bared when they suddenly brought out streamers and placards, blocking the entry of parents and students and resulting in long lines.
The protesters were requested to remove their protest placards but they refused despite negotiations, according to the QCPD.
The streamers and placards were eventually confiscated.
"The school is a zone of peace. Hence, any disruption of that peace warrants proper action by peace officers, that is, the police," Gonzales said.
He added that while the distribution of alcohol and face masks is laudable, it should not be used as an excuse to hold an unsanctioned protest program on a busy sidewalk and in front of school premises.
"We strongly condemn any and all attempts by all CPP-NPA-NDF (Communist Party of the Philippines-New People's Army-National Democratic Front)-affiliated anti-government organizations masquerading as human rights defenders who continue to sow deception and lies aimed at poisoning the minds of our youth," Gonzales said.
In a statement in Filipino posted on Facebook on Tuesday, Salinlahi said it is a non-governmental and non-profit organization that creates awareness on Online Sexual Abuse and Exploitation on Children, child labor, and safe return to school.
It also said it is against the proposed mandatory Reserve Officers' Training Corps for senior high school and claimed its members have distributed food and school supplies to thousands of children. (PNA)