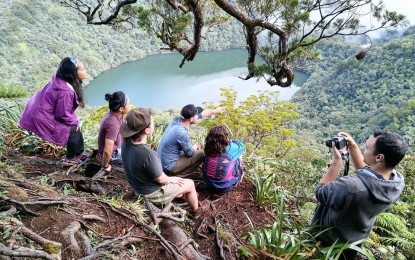 DUMAGUETE CITY – Mt. Talinis in Valencia town, Negros Oriental remains closed to trekkers even as pandemic restrictions have already eased up in the province to allow the recovery of biodiversity that is threatened by human activity.
Desiderio Tilos Jr., Valencia tourism officer, told the Philippine News Agency in an interview on Tuesday that trekking in Mt. Talinis and the Cuernos de Negros mountain range was stopped since the start of the pandemic more than two years ago.
"While other tourist destinations in the province have already re-opened, Mayor Edgar Z. Teves, Jr. decided against the resumption of activities in Mt. Talinis as the local government unit (LGU) has to come up with clearly defined mountain trekking regulations," Tilos said in mixed English and Cebuano.
"Furthermore, the closure of Mt. Talinis will allow the recovery of the rich biodiversity in the area that is threatened by illegal logging, was affected by tourist activity prior to the pandemic, and the recent typhoon that destroyed trees and other vegetation," he added.
Only a couple of "special" activities such as tree planting and a marathon were allowed by the LGU, although Tilos said no more special permits for "controlled groups" will be given out until Mt. Talinis will be formally re-opened.
The LGU's eco-guides were deployed to accompany these groups that were given special permits.
Teves will convene the Valencia Municipal Tourism Council soon to discuss the guidelines and other regulations on mountain trekking.
Tilos said the mayor is looking at re-opening Mt. Talinis to the public by next year and will promote it as an eco-tourism destination.
Mt. Talinis is a complex volcano that is about 6,243 feet above sea level. (PNA)