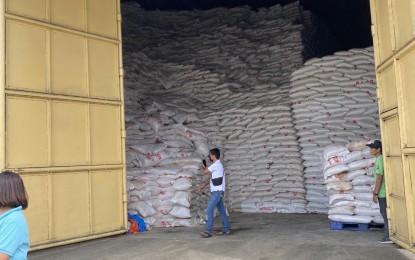 MANILA – Bureau of Customs (BOC) agents in Northern Mindanao found around 466,142 sacks of raw sugar during surprise visits to several warehouses in Cagayan de Oro City on Tuesday.
Acting on orders from the Office of the President (OP), operatives from the Bureau, armed with a Letter of Authority (Reference No. 08-22-165-2022) and a Mission Order (No. 08-22-2022-536), conducted the examination in three warehouses of Crystal Sugar Milling located at North Poblacion in Cagayan de Oro City where they discovered the thousands of sacks of raw sugar.
In a statement Wednesday, the bureau said the operation was initiated based on intelligence reports that the owners are allegedly engaged in the hoarding of stocks of sugar.
Initial investigation by the Customs Intelligence and Investigation Service (CIIS) indicated that of the total inventoried sugar, some 264,000 sacks were said to have been already sold to traders but the stocks have not yet been withdrawn from the warehouse.
According to the warehouse manager identified as Javier Sagarbarria, the Crystal Sugar Milling produces 2 million bags of sugar a year.
He added that "the one holding or safekeeping the documents was not around" when authorities demanded copies of sugar transaction documents to verify if the numbers would confirm that the discovered sugar is an authorized stock.
Customs agents from Northern Mindanao were assisted by a representative from the Sugar Regulatory Administration (SRA) as well as security units provided by the local units of the military and police based in the municipality of Maramag in Bukidnon province.
Earlier, Press Secretary Trixie Cruz-Angeles announced that the BOC and other agencies are continuously inspecting sugar warehouses, in accordance with the intensified campaign of President Ferdinand Marcos Jr. against the illegal importation of agricultural products.
"The government crackdown against hoarders and profiteers is part of the campaign of the Marcos government to bring down the price of sugar," she said.
In less than a week, simultaneous operations were conducted by the BOC, the SRA, and the Department of Agriculture (DA) to inspect sugar warehouses in Deparo, Caloocan City; Balut in Tondo and San Nicolas in Manila; Rosales, Pangasinan; San Fernando, Pampanga; Ibaan, Batangas; and Davao.
A few days after the Chief Executive met with owners of Robinsons Supermarket, SM Supermarket, and Puregold, prices of sugar in their Metro Manila stores dropped to PHP70 per kilo from a high of PHP110 per kilo a few weeks back.
Over the weekend, four warehouses in Guiguinto, Bulacan jointly inspected by the BOC, SRA and the DA yielded at least 60,000 bags of suspected hoarded sugar.
The huge volume of sugar discovered in various inspected warehouses in Luzon and lately in Mindanao has led Palace officials to conclude that the sugar shortage was artificial, caused mainly by the hoarding of the commodity by traders who want to profit from the sudden spike in prices. (PNA)