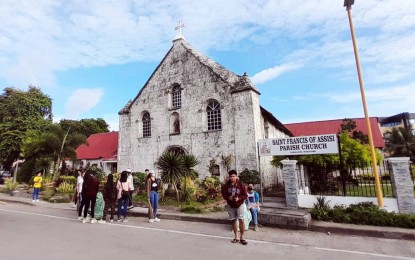 DUMAGUETE CITY – The Commission on Church Cultural Heritage of the Diocese of Dumaguete is seeking technical expertise and funding for the restoration and/or preservation of historical churches and similar structures that are facing threats from humans and the environment.
Msgr. Julius Perpetuo S. Heruela, who heads the Diocesan Commission on Church Cultural Heritage, told the Philippine News Agency in an interview Wednesday, that they have asked the National Historical Commission of the Philippines (NHCP) and the National Museum for assistance to prevent these heritage sites from further degradation.
"Some churches in the diocese that have significant historical value and are centuries-old are threatened by various factors that may cause degradation or even destruction if the problems are not addressed immediately," Heruela said.
He cited the St. Francis of Assisi Church in the municipality of Siquijor in Siquijor province, where a portion of the upper left façade of the century-old structure collapsed recently.
Observations made during an inspection last week by Heruela and his team showed that vegetation growth resulted in the penetration of water through the loosened coral stones.
Initial action taken included covering the exposed part so that water would not saturate the wall, while coral stones that had fallen off were retrieved and stored in a safe place to avoid exposure to water.
Heruela said they have secured the perimeter to ensure the safety of the structure and the public while requesting a stone expert from a national agency, such as the NHCP, to conduct an ocular inspection and site visit.
The maintenance and preservation of old churches and belfries require proper training, cautious handling, and diligent methods to avoid destroying these heritage structures, he pointed out.
For instance, vegetation growing in cracks and crevices of these structures cannot just be pulled out as it could cause the dislodging of coral stones, he said.
Aside from the Siquijor Church, the commission is also seeking assistance for the restoration and preservation of the Cathedral Belfry at the St. Catherine of Alexandria parish in this capital.
It already initially had a budget allocation from the national government but due to the Covid-19 pandemic, the funds had to be diverted for health purposes, he said.
The churches in the diocese that have received funding for restoration from national government agencies include the San Isidro Labrador Parish Church in Lazi town, Siquijor; the St. Nicholas de Tolentino Parish Church in Dauin, the St. Isidore the Farmer Parish Church in Zamboanguita; and the St. Augustine of Hippo Parish Church in Bacong, all in Negros Oriental.
The churches in Lazi and Bacong are both declared as National Cultural Treasures. (PNA)