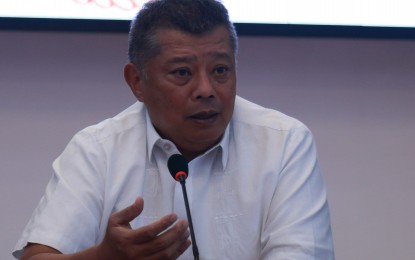 MANILA – Justice Secretary Jesus Crispin Remulla on Wednesday reiterated that the Philippines is merely acting out of courtesy in its move to provide the International Criminal Court (ICC) with the data it seeks for the resumption of its investigation into the country's war on drugs.
Speaking at the Kapihan sa Maynila forum, Remulla once again said the ICC should not construe it as compliance, saying the country's criminal justice system is functional.
"We are currently investigating these crimes. Our judicial system is working. And that is the most important thing that is there. As I said, the American (lawmakers) went to court to ask for permission to visit (former) Sen. (Leila) de Lima, which was granted by the court. It just shows that the court really determines the action of people where they are merited or not," Remulla said.
Remulla was referring to the US delegation led by Senator Edward Markey who recently asked the Muntinlupa City regional trial court to allow them to visit the detained former senator.
"They have done that in Somalia, they have done that in Sudan, in countries with no rule of law. Hindi naman tayo ganun (We are not like that). We have an existing justice system that is characterized by our rule of law so if the decision is to pull out from the ICC so be it we will just determine the responsibility of people through our own means," Remulla said.
"As I said before, we are doing everything as a matter of comity, friendship, respect among nations among unilateral agencies. We are not submitting anything as a matter of compliance, and we are not members of the ICC anymore. We have withdrawn from the Rome Statute and there is no compulsive process for them to go into the country and start investigating anything, " he added.
Last December, the ICC announced that it was suspending its investigation into the supposed atrocities committed during the campaign against illegal drugs to assess a deferral letter request from the Philippine Ambassador to the Netherlands.
Prosecutor Karim Khan has asked the ICC Pre-Trial Chamber I in a 53-page application, to authorize the resumption of their investigation into the Philippine government's anti-narcotics campaign that resulted in thousands of deaths.
The DOJ is presently reviewing 5,655 anti-drug operations that resulted in deaths to determine whether there is a probable cause to file charges against the police officers involved. (PNA)