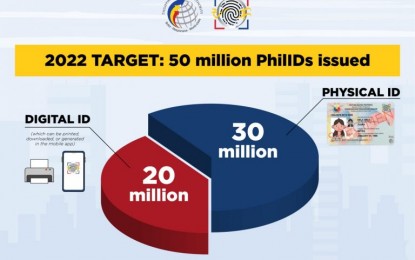 MANILA – Around 17.6 million Philippine Identification (PhilID) cards are set to be delivered to registrants nationwide, Malacañang announced Wednesday.
This, after the Philippine Statistics Authority (PSA) turned over the 17.6 million printed PhilIDs to the Philippine Postal Corporation (Post Office), Press Secretary Trixie Cruz-Angeles said.
"As of August 23, the PSA has transferred to the Philippine Postal Corporation (PhilPost) some 17.6 million physical National ID cards for delivery to the residences of ID applicants," Cruz-Angeles said in a press statement.
The PSA's goal is to issue a total of 50 million PhilIDs by end of 2022.
The PSA, Cruz-Angeles said, has expressed confidence that it could meet its target to deliver around 30.1 million physical PhilIDs and issue 19.9 million digital national IDs before the year-end.
"The Philippine Statistics Authority is confident that it could meet the year-end target of [releasing] 30.1 million printed national identification cards and the 19.9 million digital ID cards which are printable," she said.
PhilIDs' production 'above' daily target
Socioeconomic Planning Secretary Arsenio Balisacan informed Malacañang that in the last 11 days, the daily average of physical cards being produced at the Bangko Sentral ng Pilipinas' (BSP) printing facilities is 103,000 per day.
The daily production is above the PSA's daily target, Balisacan said in his report submitted to Malacañang.
"PSA is making considerable progress to hit the end-year target of 30.1 million physical Phil ID cards, which is 58 percent of the over-all target," Balisacan, who heads the National Economic and Development Authority (NEDA), said.
Under Republic Act (RA) 11055 or the Philippine Identification System (PhilSys) Act, the PhilID shall be accepted and recognized for government and private transactions, and shall be considered as an official and sufficient valid proof of identity for all Filipino citizens and resident aliens.
The PSA, an attached agency of the NEDA, is the implementing agency responsible for the overall planning, management, and administration of PhilSys, the government's central platform for all citizen and resident aliens of the Philippines, according to RA 11055.
President Ferdinand "Bongbong" Marcos Jr. earlier directed the PSA to issue 30 million PhilIDs by the end of 2022 and register 92 million of the country's population in the PhilSys by mid-2023.
The launching of digital PhilIDs would allow registrants to have their national ID printed, donwloaded, or generated in the mobile app for their use while waiting for their physical IDs.
The digital PhilID will have the same functionality and validity as the physical ID, the PSA earlier said.
In his State of the Nation Address delivered on July 25, Marcos said the use of PhilID will enable seamless transactions with the government.
Marcos also ordered the Department of Information and Communications Technology (DICT) to digitize and harmonize government databases and make the data available to all state departments and agencies. (PNA)