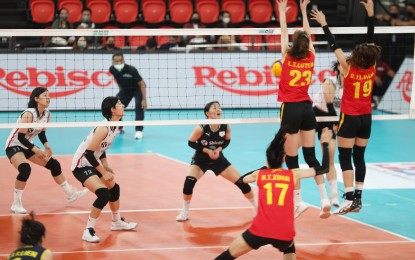 MANILA - Vietnam stamped its class over Korea, 3-0 (25-13, 25-13, 25-16) in its last preliminary round match on Wednesday in the Asian Volleyball Confederation (AVC) Cup for Women at the PhilSports Arena in Pasig City.
Outside hitter Nguyen Thi Uyen displayed her awesome form throughout the 73-minute match with 10 attacks, two blocks, and a service ace.
Equally talented middle blocker Ly Thi Luyen scored 10 points, including four blocks, while outside hitter Vi Thi Nhu Quynh contributed nine points for Vietnam, which posted its second straight victory after beating Iran, 3-0 (25-13, 25-14, 25-11), last Tuesday.
Opposite hitter Choi Hosun scored seven attacks and a service ace, while outside hitter Kim Seyul also had seven attacks for the Koreans, who dropped their third match in a row. Middle blocker Lim Hyerin and outside hitter Hwang Jimin, who is also team captain, contributed six and five points, respectively.
Vietnam now has a 3-0 (win-loss) record and is in second place behind defending champion China in Pool A.
China rolled to its third straight victory after beating the Philippines, 3-0 (25-16, 25-22, 25-20) last Tuesday. The Philippines, which has a 0-2 win-loss record, is scheduled to meet Iran late Wednesday.
Japan leads Pool B with two wins followed by Thailand and Chinese Taipei, which have identical 2-1 (win-loss) records, and Australia (0-2).
Thursday's matches will pit Japan against Australia at 1 p.m., China against Iran at 4 p.m. and Korea against the Philippines at 7 p.m. (PNA)