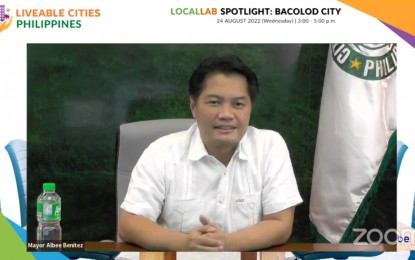 BACOLOD CITY – City Mayor Alfredo Abelardo Benitez has outlined his administration's plans to implement an electronic-governance during the virtual event of the Liveable Cities Philippines and the League of Cities of the Philippines on Wednesday.
Bacolod was featured in the year's first Liveable Cities Lab, where Benitez, in his keynote message, presented the proposed innovations of the city government in various areas.
Benitez said the city would optimize the use of information technology to effectively and efficiently deliver basic services and provide the ease of doing business to Bacolodnons and other stakeholders.
"What we're trying to do here is computerize every transaction data of the city," he added.
Benitez said the city government would also publish a new website soon using the theme of the Department of Information and Communications Technology.
Parts of the city's planned e-governance ecosystem are the electronic Business Information System; Building and Occupancy Permit System; Bacolod Comprehensive Health Program; Online Payment System; City Management Office Document Tracking System; General Services Office Asset Inventory System; Asset Sharing and Dispatching Management; Market Management System; Public Employment Services Office System; Digital Archiving; and Barangay Information System.
Other innovations being proposed are in the areas of solid waste management, housing, solar streetlights and the use of closed circuit television cameras, particularly on the automated issuance of traffic violations and video surveillance for law enforcement.
"We are in a little bit more than the planning stage. We are on the verge of launching and implementing these programs. It's just a matter of getting the proper documentation, making sure the proponents and stakeholders are already involved," the mayor said.
Benitez said that with more time, possibly by next year, the city would be able to show how it has fared in these projects. (PNA)