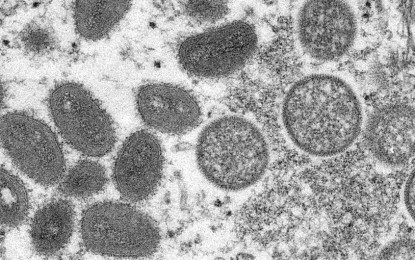 MANILA – An official of the Department of Science and Technology (DOST) said Friday the agency is open to evaluating research and development (R&D) proposals on viral disease, monkeypox, for possible funding.
In an interview with the Philippine News Agency, DOST Assistant Secretary Leah Buendia detection is of higher priority than cure.
She, however, said they will appraise any proposal that they will receive.
"The possible R&D focus (is) on surveillance and monitoring of the confirmed cases. Their clinical history and possible modes of exposure will be analyzed, as well as contact tracing to limit the spread," she said.
Buendia added that the priority is the detection of cases through the use of diagnostic tests to implement prompt isolation and contact tracing as well as understanding the clinical course and modes of exposure, infection and spread to formulate better prevention strategies.
"Monkeypox infection is usually mild compared to coronavirus disease 2019 (Covid-19) and self-limiting, so cure is not of paramount importance at present," she said.
In a webinar organized by PhilCare, infectious diseases consultant Christopher John Tibayan said monkeypox has an incubation period of about five to 21 days wherein the person experiences no symptoms.
During the febrile stage that lasts for one to four days, the person may have fever, headache, sore throat, and fatigue. Skin rashes may appear from two to four weeks.
Fever and pain management, respiratory care, and hydration are among the essential treatment for monkeypox, Tibayan said.
Meanwhile, Buendia said since there is no specific cure for monekypox, treatment protocol and other adjunct treatment are areas for innovation and R&D that researchers could consider.
She said there are two commercially available vaccines against monkeypox, although these are not locally available.
"One is a live attenuated vaccinia virus, and the other is a replication deficient vaccinia virus which has lesser side effects than the former," she said.
R&D proposals that will pass the technical review panel and approved by the executive committee will receive funding from the DOST.
Buendia said the funding amount will depend on the proposal.
Currently, the DOST is in discussion with some researchers regarding improved diagnostic tests, she said. (PNA)