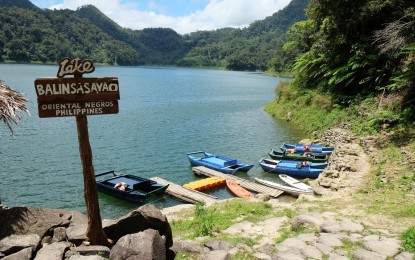 DUMAGUETE CITY – Negros Oriental Governor Pryde Henry Teves has increased the number of forest rangers or "Bantay Lasang" to support his administration's efforts in stepping up biodiversity conservation and protection of the environment.
Teves on Wednesday hired 51 additional forest rangers and absorbed and re-hired five other existing ones from the previous administration to enforce laws related to the environment, Capitol public information officer-designate Oliver Lemence told the Philippine News Agency on Friday.
"The governor saw the need to provide more forest rangers in the province as he identified areas for possible bio-financing by the United Nations Development Program (UNDP)," Lemence said in mixed English and Cebuano.
The 56 forest rangers have been deputized by the Department of Environment and Natural Resources (DENR) to enforce environment-related laws and arrest violators engaged in illegal activities, he said.
He added that Teves has ordered the deployment of these "Bantay Lasang" teams to areas that have been identified for possible bio-financing, such as the province's marine protected areas, and the south-central corridor from Buenavista-Talalak in Sta. Catalina that connects to the other towns of Siaton, Valencia, and to the Twin Lakes Balinsasayao-Natural Reserve, the Banban Natural Forest in Ayungon, and the Apo Island Land and Seascape Protected Area.
Early this week, he said officials from the Philippine Biodiversity Conservation Foundation, Inc. and the Biodiversity Finance Initiative of the UNDP called on the governor and explained the bio-financing program which intends to provide financial resources for bio-diversity damage until full recovery.
Throwing his support to the bio-financing program, Teves cited undertakings in Bayawan City during his time as the mayor, including the Bayawan Watershed and Bio-Conservation Program (BWBP) covering 300 hectares where endangered species of spotted deer, wild boars, and endemic birds such as red-heart pigeon and Mallard, among others, have returned to the wilds. (PNA)