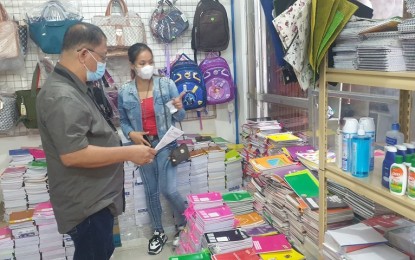 SAN JOSE DE BUENAVISTA, Antique – The Department of Trade and Industry (DTI) has assured parents of learners of enough supply of school materials despite the high demand for the opening of classes.
Glen Fernando, DTI-Antique Trade and Industry Development Specialist, said in an interview that based on the monitoring of major stores on Friday, they found an adequate supply of school materials being sold within the Suggested Retail Price (SRP).
"There is nothing to worry about the supply of school materials because the major stores still have enough," Fernando said.
He added that some retail stores in the province were even selling school supplies at prices lower than the SRP due to lower acquisition costs from suppliers, as well as low transportation costs.
Fernando reminded stores to adhere to the recently issued SRP because DTI personnel would be monitoring them weekly.
The SRP issued by the DTI on August 12 showed the brand Advance notebook costs PHP17.60; Happy pad paper, PHP14; and Avanti ballpen, PHP19.
Under Republic Act 7581, or the Price Act, school supplies are considered prime commodities and are being monitored by the DTI to ensure they are accessible and being sold within the SRP.
The DTI monitors five major stores that sell school supplies in San Jose de Buenavista, including National Book Store and Expressions at Robinson's Mall. (PNA)