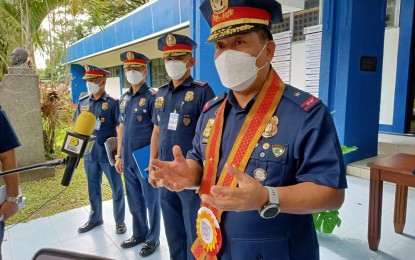 BACOLOD CITY – Police units in Negros Occidental and Bacolod City will intensify operations against the possible entry of illegal drugs for the Masskara Festival in October, Brig. Gen. Leo Francisco, director of the Police Regional Office (PRO) 6 (Western Visayas), said on Friday.
"We have security measures in place but with that kind of information, we will probably double our preparations," he told reporters here.
Francisco arrived in the city for command visits at the Negros Occidental Police Provincial Office (NOCPPO) and Bacolod City Police Office (BCPO) on Friday and Saturday, respectively.
He said police units in Western Visayas had apprehensions involving large volumes of illegal drugs recently.
"The amount of drugs is still there. When you assess that, there is still supply on the ground. That is what we're focusing on as part of the directives of Philippine National Police Chief (Gen. Rodolfo Azurin). We do not care who gets caught or who gets arrested. What's important is, we're going to make arrests within the bounds of the law," Francisco said.
Recent anti-drug operations in Bacolod and Negros Occidental have disclosed that illegal drugs are already being transported for the upcoming Masskara Festival.
Meanwhile, the NOCPPO is closely watching the ports in the northern area of the province as part of the continuing operations to prevent the entry of illegal drugs.
Ports of entry in the north include those situated in the cities of Escalante and San Carlos, where large volumes of shabu have been previously seized from suspects traveling from neighboring Cebu province.
On August 15, provincial police operatives arrested the leader of the Bugalon drug group in southern Negros, Jonalyn "Mommy Jing" Bugalon, in Kabankalan City.
During a buy-bust, Bugalon sold PHP20,000 worth of suspected shabu to an undercover policeman and yielded more shabu, valued at PHP884,000.
In Bacolod, high-value individual Jeboy James Poneles was busted with PHP1.4 million worth of shabu in Barangay Singcang-Airport also on August 15 while suspect Ahzer Villarosa was arrested with PHP4.31 million worth of shabu during a buy-bust at a residence in Barangay Pahanocoy on August 14. (PNA)