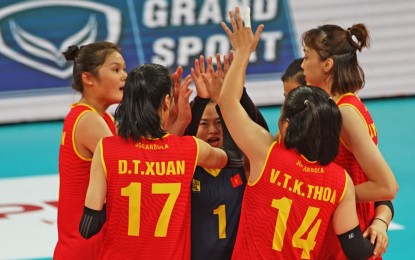 MANILA – Defending champion China stamped its class over Australia, 3-0 (25-13, 25-8, 25-8) in Saturday's quarterfinal match of the 2022 Asian Volleyball Confederation (AVC) Cup for Women at the Philsports Arena in Pasig City.
Outside hitter Wu Mengjie finished with 12 attacks, four service aces, and one block in leading her team to its fifth consecutive win.
Opposite hitter Zhou Yetong had 14 attacks, while opposite hitter Zhuang Yushan added eight attacks, three service aces, and two blocks.
Australia, which absorbed its fourth loss, was spearheaded by opposite hitters Caitlin Tipping and Rebecca Redgen, who both scored four points.
Joining China in the next round was Vietnam, which played steadier in the tie-breaker to beat Chinese Taipei.
Outside hitter Tran Thi Thanh Thuy scored 25 points, including nine in the crucial set, as Vietnam escaped with a 3-2 (19-25, 25-17, 16-25, 25-18, 15-10) victory.
"It is important for me to set the mood for the team and for us to work together for this win," said the 24-year-old team captain.
Opposite hitter Hoang Thi Kieu Trinh had 17 attacks and five blocks, while middle blocker Nguyen Thi Trinh added nine attacks and one service ace. Doan Thi Xuan had five blocks.
"There are two things that can make Vietnam win. It's having a good defense and keeping the winning spirit," coach Nguyen Tuan Kiet said through an interpreter.
Chinese Taipei fought hard to win, banking on the solid performances of outside hitters Chen Tzu-Ya, Wu Fang-Yu, and middle blocker Kan Ko-Hui throughout the two-hour match but was dominated by its taller opponents.
Chen finished with 15 attacks and four service aces, Wu scored 13 attacks while Kan had two blocks and nine attacks, including five in the second set.
Middle blocker Huang Ching-Hsuan's 10-point output includes four blocks.
Other quarterfinal matches scheduled later in the day were Iran against Japan and Thailand against the Philippines. (PNA)