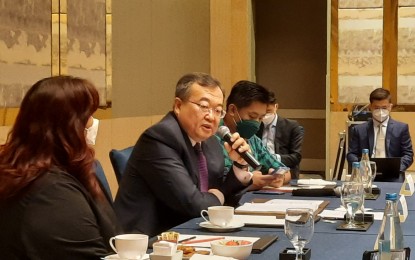 MANILA – The Communist Party of China (CPC) is looking at enhancing relations with political parties in the Philippines, its ranking official said Sunday.
"[W]e are open and we are very positive to promote and strengthen the interactions between the Communist Party of China and [political parties in the Philippines] and even with new parties, we would like to establish ties," Minister Liu Jianchao of the International Department of the CPC Central Committee said in a press conference at a five-star hotel in Taguig City.
The diplomat, who arrived Friday for a three-day working visit, had also met with House Speaker and Lakas-CMD party president Martin Romualdez and Senate Minority Leader Koko Pimentel, chair of PDP-Laban.
In their Sunday meeting, Liu and Pimentel discussed cooperation between the CPC and PDP-Laban and how the two parties could help improve bilateral relations between Beijing and Manila.
The CPC established a connection with the PDP-Laban as early as 2017 after Pimentel attended the World Dialogue of Political Parties in Beijing.
At the time, Pimentel discussed with Chinese President and CPC General Secretary Xi Jinping the need for political parties "to adapt and cooperate with the phenomenon of the global village."
Apart from party leaders, Liu likewise met with Foreign Affairs Secretary Enrique Manalo to discuss key areas of cooperation, including agriculture, infrastructure and people-to-people ties.
Liu said China is ready to support and work with Manila as the latter shifts to renewable energy.
Among others, he discussed Beijing's relations with the Association of Southeast Asian Nations, the war in Ukraine, and the worsening global food insecurity.
In the same media roundtable, Liu expressed hopes for the revival of negotiations on the Philippine-China oil and gas exploration in the South China Sea.
"[It] seems that there are some legal barriers or legal factors that are standing in the way of a final consensus. So I hope that both sides will move about this issue in a way that is feasible, in a way that will be practical so that the cooperation could be continued, could be realized," he said.
"I hope that the discussions will continue and both sides will demonstrate some kind of flexibility so that, without prejudicing each other's claims or their own positions, cooperation could happen," he added.
The International Department is the CPC's diplomatic arm. Prior to heading this office, Liu previously served as the Chinese Ambassador to the Philippines. (PNA)