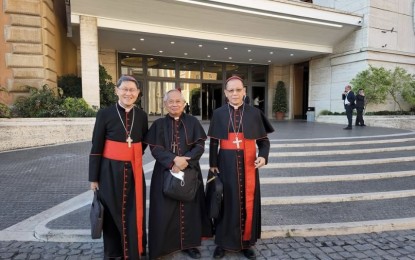 MANILA – Three Filipino cardinals are now in the Vatican to attend a two-day extraordinary consistory called by Pope Francis starting Monday.
In a Facebook post, the Catholic Bishops' Conference of the Philippines (CBCP) News shows the Aug. 29 picture of Cardinal Luis Antonio Tagle, Pro-Prefect of the Dicastery for Evangelization; Cardinal Orlando Quevedo, the Archbishop Emeritus of Cotabato; and Manila Archbishop Cardinal Jose Advincula outside the Paul VI Hall inside the Vatican.
The Pope is expected to appoint new cardinals during a meeting that will end Aug. 30.
During the event, the Pope will appoint a majority or 63 percent of the College of Cardinals.
The college is a group consists of the pontiff's closest assistants and advisers, composed of all Catholic Church's cardinals from different parts of the world. (PNA)