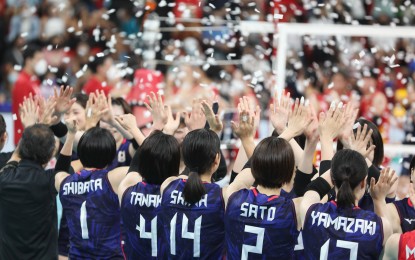 MANILA – Japan pulled off a 3-1 (25-23, 25-21, 19-25, 25-16) victory over China to rule the 2022 Asian Volleyball Confederation (AVC) Cup for Women on Monday at the Philsports Arena in Pasig City.
Banking on the awesome performances of opposite hitters Mizuki Tanaka, Miwako Osanai and Miyu Nakagawa and middle blocker Asuka Hamamatsu, Japan bounced back in the fourth set to claim the match after one hour and 54 minutes.
Tanaka finished with 17 attacks and two service aces, Osanai had 14 attacks and one service ace while Nakagawa scored 10 spikes and two service aces. Hamamatsu had eight spikes, two blocks and two service aces.
"I am so grateful for this first championship, especially since we won this altogether. Despite the short time of preparation, we did really great. We have all the top players in the Japanese V-League, we got to highlight everybody's goodness about the play so that was really great about the team," said captain Mika Shibata through an interpreter.
"We focused on serve and defense. That worked so we won. I am so happy with the result," added head coach Akira Koshiya.
Opposite hitter Zhou Yetong and middle blocker Wang Wenhan scored five points each while outside hitter Zhuang Yushan contributed four points as China won the third set in 30 minutes.
Yetong led China with 14 points, including three blocks. Zhuang had 10 spikes and three blocks, Wang added 10 attacks and block while Wu Mengjie had 11 points.
"We're still a young team, we learned a lot from the experience from this tournament. We will work harder and do better next time," said China's head coach Kuang Qi through an interpreter.
Thailand defeated Vietnam, 3-0 (25-19, 26-24, 25-18), to settle for third place.
Chatchu-on Moksri had 16 points off 14 attacks, one block and one service. Pimpichaya Kokram scored 14 spikes while Hattaya Bamrungsuk scored eight attacks, one block and one service ace.
Tran Thi Thanh Thuy topscored for Vietnam with nine points, Nguyen Thi Trinh had eight points and Tran Thi Bich Thuy delivered 11 spikes.
Meanwhile, Shibata was named Most Valuable Player. The other recipients of individual awards were China's Wu Mengjie (Best Outside Hitter), Hu Mingyuan (Best Middle Blocker), Zhou Yetong (Best Opposite); Japan's Hiroyo Yamanaka (Best Middle Blocker) and Rena Mizusugi (Best Libero); and Thailand's Chatchu-on Moksri (Best Outside Hitter) and Pornpun Guedpard (Best Setter). (PNA)