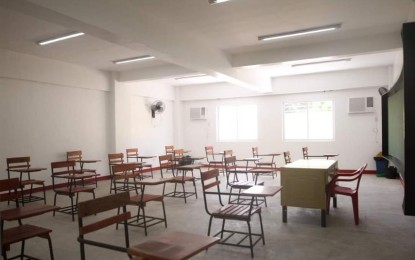 MANILA – The Department of Health (DOH) is supporting the move of the Commission on Higher Education (CHED) allowing unvaccinated tertiary students and faculty members of higher education institutions (HEIs) to join in-person classes.
In a statement Tuesday, the DOH said CHED officials and health experts discussed on Aug. 29 the scientific bases for the policy update, including the high Covid-19 vaccination coverage in the country's higher education sector.
About 77 percent of students and 90 percent of HEI personnel are fully vaccinated against the coronavirus, it added.
"DOH and health experts also presented Philippine data showing less infections in the 18-25 age group compared to other age groups, further to international data showing that Omicron and its sub-variants thus far have lower fatality or severity of disease," the statement read.
Earlier, CHED chairperson J. Prospero de Vera III said this significant policy change was based on several considerations, including high vaccination coverage in HEIs, lowered risk classification in the country, and other parameters.
DOH officer-in-charge Maria Rosario Vergeire said the country's Covid-19 response is "dynamic" and follows the latest scientific recommendations available.
"The benefits of in-person and face-to-face schooling now outweigh the risk of Covid-19 infections. Face-to-face classes boost academic performance, improve mental health and well-being, and help develop social engagement skills," she said. "Even as proof of vaccination is no longer needed, vaccination and boosters for all eligible individuals is still strongly recommended. Let us keep the wall of immunity strong."
The Philippines joins at least five other countries in giving more weight on the value of in-person and face-to-face higher education, given the scientific bases.
These countries include Australia, United Kingdom (but strongly encouraged), Canada (strongly recommended for congregate student-living settings), New Zealand, and Singapore (but unvaccinated students require biweekly testing for indoor dining).
This move is supported by the global community, including the World Health Organization and the UNICEF.
Vergeire reminded tertiary students and personnel to continue adhering to the minimum public health standards in the campuses.
"Wear the best fitting mask, Isolate when sick, double up protection with vaccination and boosters, and ensure good airflow," she said. "The DOH will keep working with CHED and our colleges and universities to ensure safe higher education."
CHED is giving discretion to HEIs in deciding on the health protocols to implement such as securing temperature checks and declaration forms. (PNA)