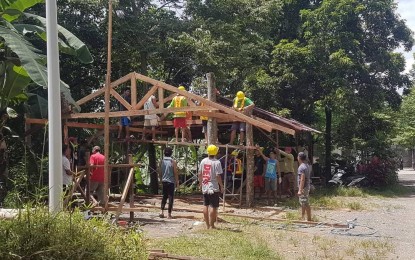 SAN JOSE DE BUENAVISTA, Antique – Twenty-five persons deprived of liberty (PDLs) are constructing a wooden structure that would serve as a training center within the Antique Rehabilitation Center (ARC) premises as part of their ongoing carpentry workshop with the Technical Education and Skills Development Authority (TESDA) in the province.
"Our first batch of PDLs who have availed of the TESDA training have taken up Carpentry - National Certificate II (NC II) so that they could build their training center and acquire carpentry skills that they could apply even after their discharge from the ARC," Jail Warden Eduardo Ebon said in an interview Tuesday.
Once completed, the wooden building will be used for forthcoming training courses with TESDA.
The 38-day training under TESDA's Special Training for Employment Program (STEP) began on August 10 and ends on October 3.
Some trainees who used to be carpenters still found the TESDA training helpful, especially for their livelihood after discharge.
"Some PDLs just learned carpentry through their working experience, but with the TESDA training, their knowledge and skill was further enriched," Ebon said.
The ARC has 184 PDLs, 182 of whom are male and two are female.
While the current training course is given to all male PDLs, they are also requesting other skills training, such as welding, which the female PDLs could join.
TESDA-Antique office head Karyn Mae Duay said in a separate interview that aside from the free training, the PDLs under the program received a support fund of PHP160 per day, insurance for the duration of their training, new normal assistance for personal protective equipment (PPE), Internet allowance of PHP500, and workshop uniform allowance worth PHP500.
They will also be provided with a starter tool kit and free assessment after their training course. (PNA)