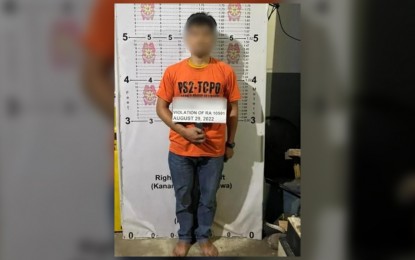 TACLOBAN CITY – The local police here have arrested an army sergeant who is the suspect in the killing of a village chief in Javier town, Leyte province.
In a report released Tuesday by the Philippine National Police Eastern Visayas regional office, arrested in this city was suspect Alexandro Calda, 33, assigned at the 63 Infantry Battalion in Guirang village in Basey, Samar province on Sunday.
He is a resident of Mercedes village, Catbalogan City.
The PNP said operatives led by Javier town chief of police, Lt. Nicky Bermudo, have been tailing him since he was tagged as the suspect of a fatal shooting in Caranhug village, Javier, Leyte on Aug. 22.
"On Sunday, the operating team approached the suspect for interrogation pertaining to the shooting incident and the latter introduced himself as enlisted personnel of the Philippine Army," the PNP stated.
"When asked for his identification card, the suspect voluntarily opened the storage box of his single motorcycle where police saw a .45-caliber pistol and a chamber loaded with a live ammunition. The suspect was silent when asked for proper documents," the PNP report added.
The soldier was tagged as a suspect in the killing of Joel Riños, 50, chief of Inayupan village in Javier town on Aug. 22.
The suspect was identified through the aid of close circuit television footage, a barangay intelligence network, and a witness, according to the PNP.
Calda is now detained at police station 2 here. (PNA)