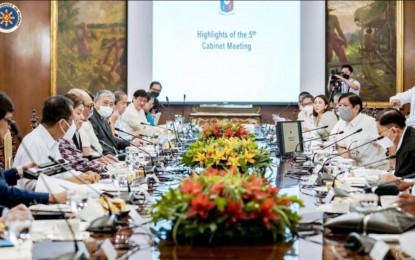 MANILA – The Departments of Science and Technology (DOST) and Environment and Natural Resources (DENR) presented their priority programs in the 6th Cabinet meeting presided over by President Ferdinand "Bongbong" Marcos Jr. on Tuesday.
In a Palace press briefing, Press Secretary Trixie Cruz-Angeles said Marcos and top officials of the DOST and DENR tackled various efforts to lead the country's scientific and technological efforts as well as converse, manage, develop, and properly use the country's environment and natural resources.
"Sa DOST, ang kanilang mga priyoridad ay (In the DOST, their priorities are) creation of technology-based enterprises, jobs for regional development; food security and resilience; health security; water security and environmental protection; and energy," she said.
"Ang mga nasa plano ng ating DENR ay (In the plans of the DENR are) enhancement of the natural capital accounting system including the valuation of ecosystem services; budget realignment and strategic collaboration with other NGAs [national government agencies], LGUs [local government units], private sector, academe, and other stakeholders; bolstering science and technology in environmental and natural resources management (e.g. Balik Scientist Program); improvement of sensor networks and analytics; and promoting green and blue jobs in environmental and natural resource management," she added.
The DOST is currently headed by Secretary Renato Solidum Jr., while the DENR is led by Secretary Maria Antonia Yulo-Loyzaga.

Solidum earlier said he will prioritize job creation, and use of science, technology and innovation (STI) to address various concerns that the country is facing.

In July, Marcos met with Yulo-Loyzaga to discuss initiatives aimed at protecting the environment.

Marcos and Yulo-Loyzaga touched on "environmental protection efforts that would help the DENR fulfill its mandate to protect and conserve the environment."
In the last Cabinet meeting, the Department of Migrant Workers (DMW) and the Department of Labor and Employment (DOLE) presented their plans to help ease the plight of Filipinos working in the country and overseas.
Meanwhile, Marcos also met with Munther Mahfoodh Salim Al-Mantheri, the outgoing Ambassador of Oman.

Marcos shared photos of his meeting with the outgoing envoy on his official Facebook page.

"We thank H. E. Munther Mahfoodh Salim Al-Mantheri, the outgoing Ambassador of Oman to the Philippines, for visiting us today in Malacañan Palace," he said in the caption.

"We appreciate his efforts and contributions to the development of a vibrant relationship between the Philippines and Oman. We wish him the best of luck on his new journey," he added.
Diplomatic relations between the Philippines and the Sultanate of Oman were officially established on Oct. 6, 1980, with the Philippine Ambassador to Riyadh being accredited as the country's non-resident Ambassador to Muscat.
It was not until March 1992 that the Philippine government opened a resident Embassy in Muscat, with Consul Bahnarim Guinomla as Charge d'Affaires. Ambassador Sanchez Ali became the first resident Philippine Ambassador. (PNA)