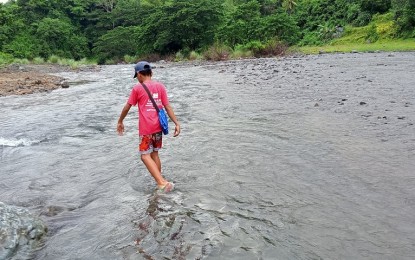 SAN JOSE DE BUENAVISTA, Antique – The tribal leader of the indigenous peoples (IPs) in Barangay Latazon, Laua-an town is asking the Antique provincial government to hasten the construction of a hanging bridge to replace the old one that collapsed last June 15.
Abel Pedro said in an interview Tuesday they are asking if the provincial government can replace the bridge so their school children would be safe and not wade on the Cairawan River when they go to school.
The collapsed bridge, which is 150 to 200 meters away from the IP area in Barangay Latazon, connects them to the town proper where the Laua-an National High School is located.
"Immediately after the collapse of the bridge, there were personnel of the Antique Provincial Engineering Office (PEO) with members of the provincial board who came to inspect the cause for the provincial government to be able to construct a new (one)," he said.
However, until now they have yet to receive any update.
Meanwhile, PEO head Engineer Inocencio Dajao said the Antique provincial board has already requested PHP3 million for the construction of the hanging bridge from the office of Governor Rhodora Cadiao.
"We will implement the bridge construction once the budget is already there," he said.
Dajao added that the old hanging bridge, which only served the IP residents for three years before it collapsed, was implemented by the barangay and was not structurally sound, the reason why its cable wires easily gave way. (PNA)