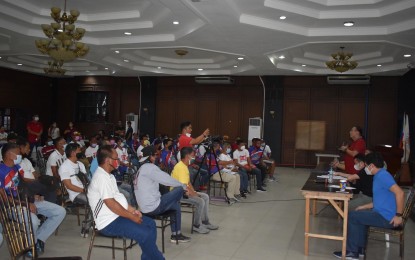 LAOAG CITY – Tricycle drivers in this city are seeking an increase in basic fare due to the global oil price hike.
Based on the existing 2011 city ordinance, the current basic fare for tricycles stands at PHP11 for the first kilometer with an additional PHP2 for the succeeding kilometer, while students, senior citizens, and persons with disabilities get a discounted fare of PHP9 with an additional PHP2 for the next kilometer.
Many trike passengers, however, have complained about tricycle drivers collecting PHP20 per passenger, a special rate imposed on commuters when the city was still under heightened restrictions and tricycles were only allowed to take in one passenger per trip.
The special ordinance collecting PHP20 per trike passenger, however, has already been lifted since travel restrictions had been relaxed after the city was put under general community quarantine.
However, commuters said drivers continue to collect PHP20 per passenger even if they already carry a maximum of three passengers, due to high fuel prices.
To resolve the public transport issue, Laoag City officials led by Mayor Michael Keon met with tricycle drivers and operators in the city on Tuesday to discuss fare rates and other concerns of the sector.
Tricycle is a major public transport in Laoag City, particularly now that face-to-face classes have resumed.
Francisco Martin, president of the Federation of the Tricycle Drivers Association, said Tuesday they are proposing a PHP9 fare increase from the PHP11 basic fare due to increasing prices of basic commodities, fuel, and vehicle spare parts, among others.
Apart from the pandemic, he also noted that their daily income has been affected by the presence of taxi operators who are servicing commuters in the city and its neighboring towns.
Compared to other cities, Martin said, only Laoag has not increased its basic fare since the implementation of the Tax Reform for Acceleration and Inclusion (TRAIN) Law.
Pending the passage of the proposed fare hike ordinance, Laoag City Councilor Mikee Fariñas, chairperson of the transportation committee, invited all stakeholders to a public hearing next week so they could voice their concerns.
In the meantime, Fariñas said, tricycle drivers are reminded to follow the approved regular fare guide of PHP11 per passenger.
"While we understand the plight of our tricycle drivers, we should understand that we need to undergo proper procedure to regulate fare increase," the councilor said.
To cushion the impact of the oil price hike, the provincial government said it continues to provide fuel subsidies worth PHP4,000 each to all jeepneys and trike drivers covering the 21 towns and two cities of Ilocos Norte. (PNA)