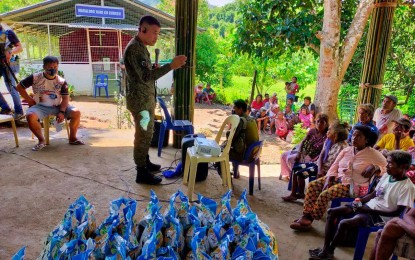 BALER, Aurora – The Philippine Army is continuously countering the deceptive recruitment strategies of the Communist Party of the Philippines-New People's Army (CPP-NPA), particularly among the indigenous peoples (IP).
Lt. Col. Julito Recto Jr., Philippine Army's 91st Infantry 'Sinagtala' Battalion (91IB) commander, said on Tuesday an awareness campaign was done Monday in Barangay Ligaya, Gabaldon, Nueva Ecija to save the IPs from the recruitment and exploitation of the CPP-NPA.
Recto said the activity, attended by some 90 IPs, was facilitated by the 91IB, in collaboration with the Gabaldon municipality.
He said the IPs are among the most vulnerable sectors for deception and exploitation by communist terrorist groups.
"This is the reason why the government is doing its best efforts and resources to help them, to strengthen ties and cooperation between the IPs and the Army is enhancing its counter-insurgency efforts in support to the Executive Order 70 or the Whole-of-Nation Approach through the creation of a National Task Force to End Local Communist Armed Conflict," he said in an interview.
Eugenio Supian, Ligaya village chair, expressed his full support for the government's efforts to end local communist armed conflict in the area.
"Ang gobyerno natin nagdadala ng tulong at hindi kaguluhan. Mas masarap mabuhay ng mapayapa kaysa sa nasa bundok na nagtatago (Our government brings help and not chaos. It is better to live in peace rather than hiding in the mountains)," Supian said.
Rudy Belmonte, IP community head in Sitio Mabaldog, Barangay Maligaya, said the IPs are in full support of the government's peace efforts to attain lasting peace in their village.
"Thank you for your kindness and continuous support to us. Thank you for the overwhelming peace-building and necessary assistance to our tribes," Belmonte said.
Ribeca Hila, Sitio Mabaldog, Barangay Ligaya purok leader, said they never dreamt of becoming a member of the terrorist organization.
"Our tribes wanted peace and not the terrorist organization. We supported our government. Hindi po naming gusto na may nanggugulo at hindi naming pinangarap na mag-NPA dahil gusto naming mga katutubo ay maiangat ang aming aming lugar, ang aming kabuhayan (We do not want those who are creating troubles and it is not our dream to become NPA because we, the tribes, want to uplift our place and our livelihood)," Hila said.
During the activity, the 91IB distributed 90 food packs and Enhanced Local Integration Program and Army recruitment leaflets.
The military troops also gave free haircut services to 50 IPs.
The CPP-NPA is listed as a terrorist organization by the United States, European Union, the United Kingdom, Australia, Canada, New Zealand, and the Philippines.
The National Democratic Front has been formally designated as a terrorist organization by the Anti-Terrorism Council on June 23, 2021, citing it as "an integral and inseparable part" of the CPP-NPA created in April 1973. (PNA)