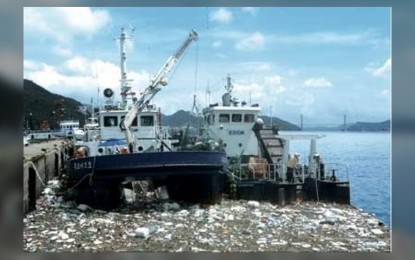 MANILA – The South Korean government is providing a marine litter-collecting vessel to the Philippines to support the country's ocean protection efforts, a ranking diplomat said Tuesday.
In a statement, Korean Embassy Consul General Lee Kyoo Ho said Korea is committed to strengthening its bilateral partnership with the Philippines in achieving clean and sustainable oceans by combatting marine plastic pollution.
Through the Korea International Cooperation Agency (KOICA), Seoul will extend a USD7.7 million official development assistance that would also include the establishment of a marine litter monitoring system and training for officials of the Department of Environment and Natural Resources and the Philippine Coast Guard.
"This year, KOICA targets (to complete) designing the vessel," Lee said. "This project is scheduled to be implemented from 2021 to 2025. But due to the pandemic, it has been delayed a bit."
The vessel would be stationed in Manila Bay once completed, the diplomat shared.
The Korea Export-Import Bank (KEXIM) also pledged to finance a USD105 million maritime safety project in the provinces of Romblon and Cebu in partnership with the Department of Transportation.
Through this project, two buoy bases will be constructed and capacity-building programs for AtoN (Aids to Navigation) services would be provided.
"Ultimately, this project aims at reducing risks of marine accidents and by doing so, contributing to protecting marine environment," the embassy said in a separate statement. "Korea will remain committed to supporting the Philippines' initiative to promote and advance regional cooperation to keep our seas and oceans clean, healthy, and sustainable." (PNA)