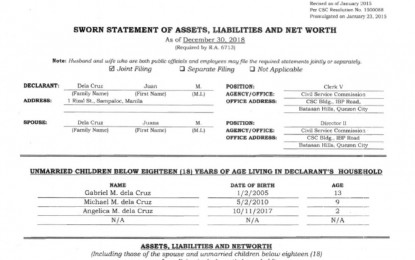 MANILA – Senator Francis Tolentino on Tuesday said it may be time to require a full disclosure of relatives of government employees who, in one way or another, are connected with terrorist groups or criminal syndicates.
In his privilege speech on Tuesday, Tolentino said amendments must be introduced to the filing of Statement of Assets, Liabilities and Net worth (SALN) to expand queries on relatives and family relations.
"I think it is right that when one enters the government to perhaps declare that you have a relative who is a member of a terrorist organization or criminal syndicate up to the fourth degree of consanguinity," he said.
The senator's speech was in reaction to the involvement with communists of an elder sister of Prospero de Vera III, chair of the Commission on Higher Education (CHED).
Adora Faye de Vera was arrested by the police in Teacher's Village East, Quezon City on August 24.
She is wanted for multiple murder (with the use of explosives) and multiple frustrated murder charges filed at the Iloilo City Regional Trial Court Branch 22. She also has a separate criminal case for rebellion.
"I have not seen her and I have not spoken to her for more than 25 years since she decided to rejoin the underground movement. I do not share her views nor support her actions," the CHED chief said, but added she wished her sister is safe and in good condition while in detention.
The sister, according to Tolentino, is accused of masterminding the killing of military and police personnel in the Visayas and is a ranking officer of the Communist Party of the Philippines-New People's Army (CPP-NPA).
"In the other branches of the government, appointed or elected, there are still some in power who have siblings connected with the CPP-NPA or a kidnap-for-ransom gang, Abu Sayyaf Group or any terrorist organization," Tolentino said.
Useful info
Senator Ronald Dela Rosa supported Tolentino's proposal not to pressure government officials but for the law enforcement groups to know how to manage information.
"Like for example, a Cabinet member is given the highest level of security clearance. But then again, 'pag malaman ng security community na may kapatid pala ito na nasa kabila (if the security community finds out that the Cabinet member has a sibling on the other side), then they know how to treat [the person]," Dela Rosa said in his manifestation of support.
Dela Rosa, who headed the Philippine National Police during the Duterte administration, said a government official may also "unknowingly" share top secret information to a relative belonging to a terror group and which can be used against the government.
He said he knows of a high-ranking officer of the Armed Forces of the Philippines whose sibling is an NPA member.
"It's beyond his control. Pero (But) at least, alam ng security community na meron siyang (the security community knows that he has a) brother na nasa kabila (on the other side)," he said.
Dela Rosa was referring to Brig. Gen. Jim Zumel, who was a superintendent of the Philippine Military Academy during the Marcos Sr. administration, while his journalist brother, Tony, was the first chair of the National Democratic Front of the Philippines and later became its senior adviser.
Tony died in Utrecht, the Netherlands in 2001 and Jim in 2019 shortly after coming home from the United States.
SALN contents
A public officer or employee is required by law to submit the SALN upon assumption of office.
In the case of the President, Vice President, Cabinet, Congress, Supreme Court, Constitutional Commissions and other constitutional offices, and officers of the armed forces with general or flag rank, the declaration shall be disclosed to the public, according to the law.
"Public officials and employees have an obligation to accomplish and submit declarations under oath, and the public has the right to know their assets, liabilities, net worth, and financial and business interests, including those of their spouses and of unmarried children under 18 years of age living in their households," states Republic Act 6713, or the Code of Conduct and Ethical Standards for Public Officials and Employees.
The current SALN requires disclosure of children under 18 years living in the declarant's household and relatives who are also in government service. (PNA)