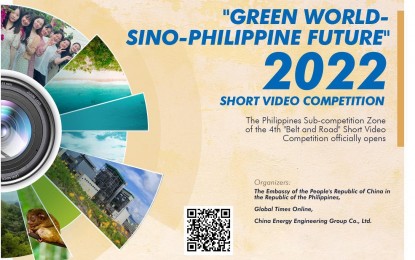 MANILA – The sub-competition zone of the 4th "Belt and Road" short video contest that promotes environmental protection and China-Philippines relations officially opened on August 29.
Themed "Green World-Sino-Philippines Future", the competition is organized by the Chinese Embassy, Global Times Online and China Energy Engineering Group Co.
University students in China and the Philippines, as well as employees of Chinese and Filipino enterprises, who took part in and witnessed cultural exchanges and friendly collaboration between the two countries, are invited to submit short videos for the competition.
The participants will use short videos of not more than three minutes as a medium to illustrate their understanding of the green future and exchange their views on Sino-Philippines relations in the contest.
Short videos with completed entry forms will be submitted to [email protected] and must be posted with hashtags on at least one social media platform like Facebook, Twitter, YouTube, TikTok and Kuaishou.
Participants have until Sept. 25 to submit their entries.
The gold winner will take home DJI Pocket 2 or CNY2,499 (some PHP20,000 – before tax) while two silver winners will get Huawei Freebuds Pro 2 or CNY1,199 each and three third placers will receive Western digital hard drive or CNY509 each.
Prizes have also been allotted for best creativity, best story, most energetic and best filmmaker awards. All winners will also get certificates.
Interested parties may scan the QR code in the poster to download the entry form and for other details of the competition. (PR)