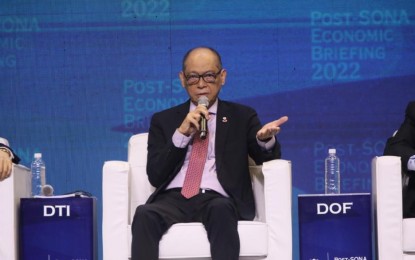 MANILA – Finance Secretary Benjamin Diokno said the government should prioritize existing social protection programs over another round of coronavirus disease 2019 (Covid-19) social amelioration subsidies, which has hardly any urgent basis given the continuous recovery of the economy and the full restoration of public mobility.
"With the normalization, it is more appropriate to continue the existing social protection programs –the Department of Social Welfare and Development (DSWD) welfare grants for poor families with children of school age, support for senior citizens, assistance to displaced workers, etc. The 'ayudas' associated with the Covid-19 pandemic, such as in Bayanihan I and II, should cease as normalization is achieved and as we learn to live with the virus," he said in a statement Tuesday.
Diokno said the distribution of 'ayudas' or cash aids were justified during the height of lockdowns and restricted mobility of citizens.
He said citizens are now free to move around, while face-to-face classes are already back.
President Ferdinand "Bongbong" Marcos, Jr. said in his first State of the Nation Address (SONA) the government will not implement lockdowns anymore.
"Public finances are finite. They have to be allocated judiciously for programs and projects that would result in the greatest benefit for the greatest number of citizens and the overall welfare," Diokno said.
He cited for instance the financing requirement for the recently approved Republic Act No. 11916, or the Social Pension for Indigent Seniors Act which lapsed into law on July 30, 2022. The law doubled the monthly pension for senior citizens from PHP500 to PHP1,000.
"It's better to use public resources for the indigent seniors, if funds are available, than for the 'ayudas' meant for the general public," Diokno added. (PR)