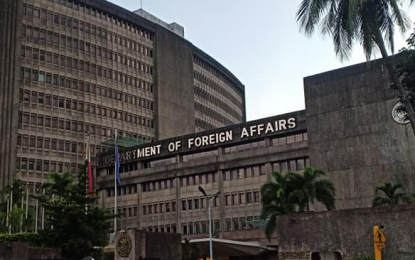 MANILA – The Department of Foreign Affairs (DFA) on Tuesday made an assurance that any move related to exploring and developing resources in the West Philippines Sea would be guided by the Constitution.
In a statement, Foreign Affairs pokesperson Ma. Teresita Daza said the DFA acknowledges the recognition of Liu Jianchao, minister of the International Department of the Communist Party of China (CPC), that there are "legal barriers" standing in the way of talks on oil and gas exploration between Beijing and Manila.
"As it has always been, the Department is guided by the Constitution on the exploration, development and utilization of natural resources located within the exclusive economic zone, continental shelf and jurisdiction of the Philippines," she said in a text message.
"The Department looks forward to working with the DOE (Department of Energy) on a way that is anchored in the Constitution and with the protection and promotion of Philippine national interests as the paramount consideration," she added.
Daza said the agency welcomes the appointment of former Chief Justices Artemio Panganiban and Reynato Puno as co-chairs of the DOE's Law and Energy Advisory Panel, which is expected to iron out policies in the country's energy sector.
The two countries signed a memorandum of understanding (MOU) on joint oil and gas development in the West Philippines Sea in November 2018.
After three years of negotiations, the Philippines in 2022 terminated the talks over possible issues with the Constitution.
Following this, China repeatedly expressed hopes for the revival of discussions.
On Sunday, Liu said: "[It] seems that there are some legal barriers or legal factors that are standing in the way of a final consensus. So I hope that both sides will move about this issue in a way that is feasible, in a way that will be practical so that the cooperation could be continued, could be realized," he said.
"I hope that the discussions will continue and both sides will demonstrate some kind of flexibility so that, without prejudicing each other's claims or their own positions, cooperation could happen," he added. (PNA)