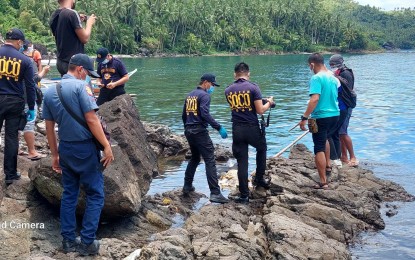 TACLOBAN CITY – The Philippine Army said two circumstances have reinforced their suspicion that retrieved human remains after the Samar Sea boat explosion are members of the New People's Army (NPA), a top official said on Wednesday.
Armed Forces of the Philippines (AFP) Joint Task Force Storm commander Maj. Gen. Edgardo De Leon said more than a week after the blast and the recovery of six human remains near the explosion site, the Philippine National Police Scene of the Crime Operatives are still working on the identities of the recoveries.
While efforts are ongoing to identify the bodies, De Leon said some clues aided in coming up with the conclusion that the human casualties were those of NPA members.
De Leon said there was no other incident at sea before and after the encounter and also no reports of sea mishaps other than the Aug. 22 clash between government forces and suspected NPA members that occurred in Canhawan-Guti village, 2.6 kilometers from the shoreline, northeast of Catbalogan City, Samar.
Citing an intelligence report, De Leon said among those engaged in a brief gun battle were top NPA national leaders.
"The absence of other circumstances at sea made us strongly believe that the retrieved human remains belong to those hostile individuals that engaged our troops," he told the Philippine News Agency (PNA).
To recall, government security forces chased a suspicious boat reportedly carrying explosives but were fired upon by its passengers. A firefight ensued followed by an explosion.
Unconfirmed reports claimed that Communist Party of the Philippines–NPA–National Democratic Front chairman Benito Tiamzon and his wife Wilma, the group's secretary general, and other communist personalities were among the passengers of the motorboat that exploded.
The government search team has already retrieved six human remains in the coastal waters of Catbalogan City, Tarangnan, and Sto. Niño, all in Samar province since the motorboat explosion believed to be carrying suspected NPA members. (PNA)