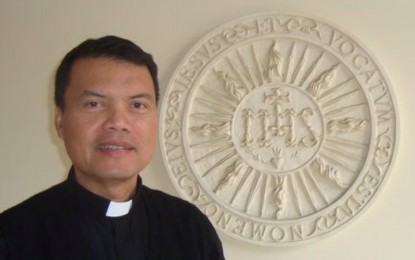 MANILA – A Filipino Jesuit priest has been appointed by Pope Francis to a Vatican office.
The news website of the Catholic Bishops' Conference of the Philippines (CBCP) reported on Wednesday that Fr. Jose V.C. Quilongquilong has been named as the consultor of the Vatican's Congregation for Catholic Education (CCE), which oversees Catholic schools, universities, and institutes of higher education around the world.
He will serve the office for five years.
It also reported that the appointment was announced on Tuesday by the Loyola School of Theology (LST), where the priest served as its former president.
Quilongquilong is a known theologian with a licentiate and doctorate in spirituality from the Pontifical Gregorian University in Rome.
He also worked as regional secretary for Asia-Pacific at the Jesuit General Curia in Rome while completing his studies.
Quilongquilong is currently serving as the administrator of the Mirador Jesuit Villa Retreat House and Eco-Spirituality Park in Baguio City.
The CCE is one of the nine congregations of the Roman Curia.
The superiors of the dicastery are its prefect, Cardinal Giuseppe Versaldi, Msgr. Angelo Vincenzo Zani, secretary; and Fr. Friedrich Bechina, FSO, under-secretary.
Former Manila Archbishop Luis Antonio Cardinal Tagle, the pro-prefect of the Dicastery for Evangelization, is also a member of the CCE. (PNA)