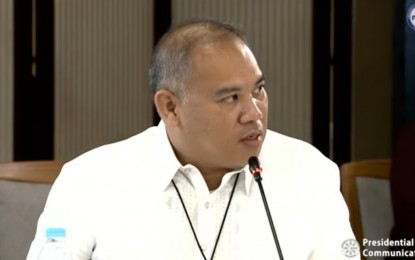 MANILA – The National Disaster Risk Reduction and Management Council (NDRRMC) on Wednesday cautioned the public to be on alert for the possible adverse effects of two weather systems now affecting the country.
In an interview with reporters, NDRRMC spokesperson and Office of Civil Defense Assistant Secretary Bernardo Rafaelito Alejandro IV added that they are now monitoring possible effects of Tropical Depression Gardo and Super Typhoon Hinnamnor on Batanes and other parts of extreme Northern Luzon.
'Hinnamnor' will be given the local name 'Henry' once it enters the Philippine Area of Responsibility (PAR).
"Let's monitor lang, makinig sa mga babala sa mga advisory at syempre maghanda din tayo for any eventuality lalo't malakas, but so far ngayon wala namang landfall na nakikita. Basta ito nga we have time to prepare at sana manatili nalang ganito yang forecast na wag nang lumapit sa atin. (Let us monitor continuously, especially the advisories and we better prepare for any eventualities as the (weather disturbances) are strong, but so far there is no projected landfall in the country. Now this gives us time to prepare and hopefully, the forecast that they won't make landfall will continue)," he said.
Alejandro, meanwhile, assured that the OCD has adequate relief supplies and funds to extend assistance to those who might be affected by the effects of the two weather disturbances.
"We have sufficient food items at the DSWD. We also have stockpiled non-food items and we also have money from the QRF which is on standby. We can access it anytime it is needed. We are ready and of course, the LGUs have also prepared their funds. We have enough time to prepare," he added.
Alejandro said the NDRRMC might raise a "red" or "blue" alert depending on the next weather bulletin to be issued by the Philippine Atmospheric, Geophysical and Astronomical Services Administration (PAGASA).
As of 11 a.m. Wednesday, PAGASA said "Gardo" is last tracked at 1,065 kilometers east of extreme Northern Luzon. It is unlikely to directly affect the weather condition in the country.
It is forecast to move generally north-northwestward or northwestward while interacting with 'Hinnamnor' outside the PAR.
Meanwhile, the NDRRMC has ordered its affiliates to prepare for the weather disturbance.
"NDRRMC has issued a general directive to all chairpersons of RDRRMCs/ OCD(Office of Civil Defense) regional directors and a directive to affected regions (projected to be Regions I, II, and CAR) to prepare in connection with the current weather system affecting the country. It has also issued a directive for the concerned to: 1. Monitor closely the warning and other advisories issued by DOST-PAGASA, DENR-MGB, and other surveillance agencies; 2. Initiation of Pre-Disaster Risk Assessment at the regional level as needed has been encouraged," Alejandro said.
He also added that strengthening risk communication and localizing the warning to communities within respective areas of responsibility have been advised. (PNA)