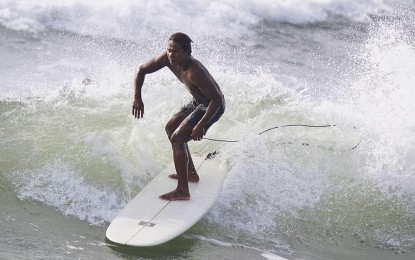 MANILA – Filipino surfing sensations and 2019 Southeast Asian Games gold medalists John Mark Tokong and Roger Casugay took the gold and bronze medal in the Phuket Beach Festival 2022 held in Thailand on Aug. 25-28.
Tokong conquered the waves of Kata Beach during the four-day international surfing meet and reigned supreme as gold medalist in the men's shortboard competition.
Tokong beat Indonesian bet Nyoman Satria Mukti with a score of 15.30 points, which was 1.9 points ahead of Mukti in the final.
Casugay, who was recognized as Pierre de Coubertin Act of Fair Play Awardee of the International Fair Play Committee in 2020, won the bronze medal in the men's longboard event.
This win is another reason to celebrate for the Philippines which proved once again that Filipino talents can keep up and be at par with the best of the best surfers in the world.
Phuket Beach Festival 2022 which was sanctioned by the Asian Surf Cooperative, was participated by surfers from the 12 countries in the Asia Pacific region namely host Thailand, Japan, Indonesia, Malaysia and Australia, among others. (PR)