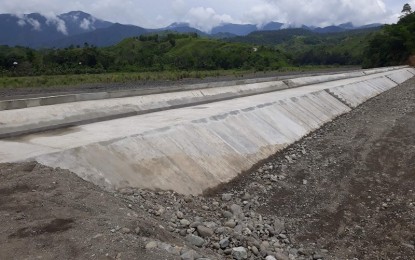 ILOILO CITY – Aklan province has been the beneficiary of various infrastructure projects by the Department of Public Works and Highways Western Visayas (DPWH-6) amounting to over PHP103.2 million.
The DPWH-6, through its Aklan District Engineering Office, on Wednesday said it has completed two infrastructure projects to keep the residents safe and also to boost their livelihood.
Expected to keep Aklanons safe from flooding is the PHP59.4 million flood control structure in Barangay Rivera in Libacao.
It will serve as a barrier to protect the barangay and local communities from the hazard of flooding due to the overflowing of the Aklan River.
The project, completed in July this year, consisted of the 390-meter revetment wall on steel sheet piles, with concrete blocks, a hexapod, and an access ramp.
"With a series of unexpected heavy rain, this structure is beneficial to the people of Aklan, particularly those who live along or near rivers. This will protect them from potential flooding and river bank erosion, which could endanger life, property, and livelihood," said DPWH-6 Regional Director Nerie D. Bueno in a press statement.
Meanwhile, a PHP28.9 million convergence project with the Department of Trade and Industry (DTI) through the Roads Leveraging Industry and Trade (ROLL IT) was also completed last quarter of 2021 in the municipality of Batan.
The concreting of the 2.4-kilometer road with structural concrete drainage along Batan-Mandong-Napti-Camansi-Sapian Boundary Road supports coconut processing in the municipality.
"This route will connect to the neighboring province of Capiz, that will minimize travel time, provide secure and efficient travel, and will aim to improve the exporting market at the same time," Bueno said.
The construction of the PHP14.9 million farm-to-market road (FMR) from Barangay Matabana to Barangay Buenafortuna in the town of Nabas is also ongoing and is already 80 percent completed as of June this year.
"It is beneficial to the locality in Aklan because it connects agricultural and fisheries areas to markets, allowing producers to transport their goods to traders and consumers with relative ease," the regional director said.
The construction of the FMR consisting of a 1.3-kilometer road with a reinforced concrete lined ditch and slope protection has been identified by the DA to be funded this fiscal year 2022. (PNA)