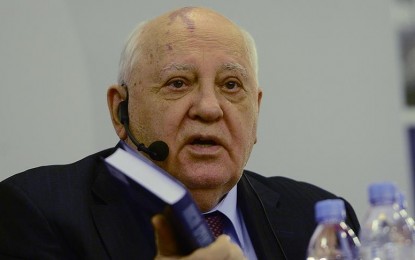 MANILA – President Ferdinand "Bongbong" Marcos Jr. on Wednesday expressed condolences to Russia over the passing of former Soviet Union leader Mikhail Gorbachev.
Gorbachev, 91, died after a "serious and long illness," according to reports by Russian state news agencies. His death was announced on Tuesday.
"I share the grief of other world leaders over the death of Mikhail Sergeyevich Gorbachev, the last leader of the former Soviet Union," Marcos said in a message posted on his official Facebook post.
Marcos said Gorbachev would be "best remembered" for the disbandment of his own political party, the Communist Party of the Soviet Union (CPSU), which has the biggest membership in the world.
He added that Gorbachev's policies of "glastnost" (openness) and "perestroika" (restructuring) brought political and economic reforms.
"He is credited for 'glasnost' referring to political reforms and 'perestroika' for economic restructuring. That the world is much safer now and there is greater freedom for millions of people in the former communist countries in Eastern Europe is in part because of Mr. Gorbachev's political and economic reforms," Marcos said.
Marcos also joined the world in praying for the repose of Gorbachev's soul.
"The Filipino people condole with the Russian people for the loss of a great leader in the person of Mikhail Gorbachev, and we pray he rests in peace," he said.
Gorbachev was credited for introducing key political and economic reforms to the Soviet Union and helping to end the Cold War.
Outgoing Lao envoy's farewell call
Meantime, Marcos commended outgoing Lao Ambassador to the Philippines Songkane Luangmuninthone for his contribution to the "good relationship and improved economic cooperation" between the Philippines and Lao People's Democratic Republic.
This, as he shared in his official Facebook account several photos of him with the Lao ambassador who paid a farewell call to him at Malacañan Palace in Manila.
"We are honored to have met H. E. Songkane Luangmuninthone, Ambassador of the Lao People's Democratic Republic, earlier today, as it also marks the end of his duty as an envoy to the Philippines," Marcos said in a separate Facebook post.
"His contribution to our good relationship and improved economic cooperation with Laos is commendable, and we are truly thankful," he added
Marcos also prayed for the outgoing ambassador's safety, as the latter begins his new assignment.
Luangmuninthone assumed his duties as Lao ambassador to the Philippines in 2019. (PNA)