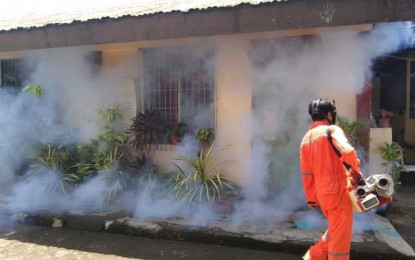 BACOLOD CITY – The City Health Office (CHO) is calling on residents to search and destroy all breeding and nesting places of mosquitoes as dengue cases increased by 240 percent in the third week of August.
Data as of Wednesday showed the city has 667 reported cases, including nine deaths, from Jan. 1 to Aug. 20 this year.
The figure is higher by 240.3 percent compared to the 196 cases with two deaths recorded during the same period in 2021.
Dr. Grace Tan, head of the CHO Environment Sanitation Division, said they have observed clustering of cases in 20 out of the 61 villages during the period July 30 to Aug. 20 alone.
This means three or more cases have been reported in these villages within the four consecutive weeks, she added.
Tan said two villages, Mansilingan and Taculing, which are among the largest barangays here in terms of population, have been identified as hotspot areas or with an increasing number of cases for four consecutive weeks or with a death case.
"The CHO strongly campaigns to search and destroy all breeding and nesting places of mosquitoes," it said in an advisory.
"Search and destroy" is the first in the "4S" strategy to fight dengue along with "self-protection measures," "seeking early consultation," and "support fogging/spraying".
Last month, the Department of Health-Western Visayas launched the "SaBAYANg 4,5,6" campaign to push for the adoption of the 4S strategy led by five teams in the local government units and barangays across the region.
Tan said they also hold coordination meetings with the village chiefs, hold public announcements, and conduct fogging or spraying in schools and public places as part of the measures to fight dengue. (PNA)