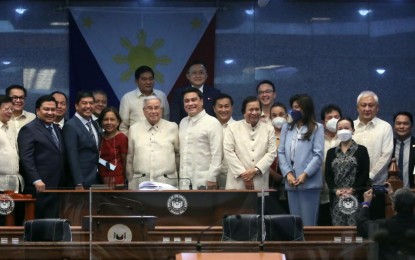 MANILA – The Commission on Appointments (CA) confirmed on Wednesday the nominations of Jose Manuel "Babes" Romualdez as Philippine Ambassador to the United States and Antonio Manuel Lagdameo as permanent representative of the Philippines to the United Nations in New York.
Lagdameo, who is the father of former Davao del Norte representative and now Special Assistant to the President Anton Lagdameo, recalled that he had been facing the CA to be confirmed for all of his international assignments in the last 15 years.
"It is always a distinct pleasure and honor to be able to face all of you and to at least show that we are still willing to serve and help our country in whatever way we can," he told the CA Committee on Foreign Affairs chaired by Senator Jinggoy Estrada.
Prior to his appointment, Lagdameo served as the country's ambassador to the United Kingdom.
Meanwhile, Romualdez gave credit to former President Rodrigo Duterte for the Philippines and US relationship that is "best right now".
He also emphasized President Ferdinand Marcos, Jr.'s agenda to strengthen economic relations with the US.
"He believes that the economy of the world is at stake, especially after this pandemic. We all need to recover from it and I think the global economy is very important. And the United States will be able to play a major role, especially in our economic ties," Romualdez told the CA.
Romualdez has been serving as the Philippine ambassador to the US since 2017.
On the other hand, the deliberation for the confirmation of Department of Foreign Affairs Secretary Luis Enrique Manalo was deferred by the CA due to time constraints. (PNA)