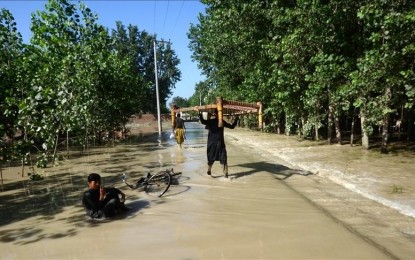 KARACHI, Pakistan – Another 36 people were reported to have died in different rain and flood-related mishaps across Pakistan over the past 24 hours, pushing the overall tally to 1,162, according to the official statistics released on Tuesday.
Of the latest fatalities, 19 were reported from northeastern Punjab province, whose southern districts have been battered by massive floods caused by torrential rains over the past two weeks.
Nine people, according to the country's National Disaster Management Authority (NDMA), died in northwestern Khyber Pakhtunkhwa province.
The remaining deaths were reported from southern Sindh and southwestern Balochistan provinces, the authority said.
A total of 3,554 people have been injured in all the four provinces, northern Gilgit-Baltistan region and Islamabad-controlled part of Kashmir since mid-June.
Some 33.4 million Pakistanis in 72 districts across the country have been affected by the ongoing rainfall and floods, the NDMA said.
Constant rains and raging floods have already destroyed a large chunk of infrastructure and agricultural lands across the country, including tens of thousands of houses, roads, and bridges, and washed away nearly a million animals.
US provides additional $30-m aid
The US administration announced an additional USD30 million to assist Pakistan. The funding will flow through USAID to local partners.
The international development agency said the assistance will prioritize "urgently needed support for food, nutrition, multi-purpose cash, safe water, improved sanitation and hygiene, and shelter assistance."
A USAID disaster management specialist arrived in Islamabad on Monday "to assess the impact of the floods and coordinate with partners on response efforts," the agency said in a statement.
"The United States is deeply saddened by the devastating loss of life and livelihoods throughout Pakistan. We stand with Pakistan during this difficult time," it added, noting Washington is the single largest humanitarian donor to Pakistan.
The announcement comes after UN Secretary-General Antonio Guterres issued a flash appeal for USD160 million as millions cope with the disaster.
Guterres described the recent floods, which have inundated nearly half of Pakistan, as a "climate catastrophe," noting that South Asia is one of the world's "climate crisis hotspots."
The most destructive monsoons in Pakistan's recent history combined with raging floods have shorn mountainsides, swept away entire buildings, and inundated over 70 districts, turning them into inland rivers.
Constant rains and raging floods have also destroyed a large chunk of the country's infrastructure and agricultural lands, including hundreds of roads and bridges, and washed away nearly a million animals. (Anadolu)