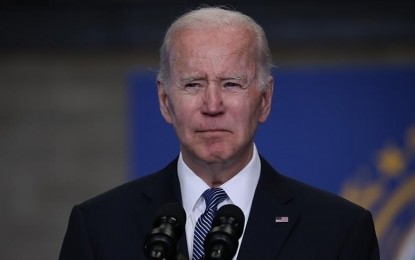 WASHINGTON – President Joe Biden sought Tuesday to energize action to address the United States' epidemic of gun violence, saying he is "determined" to ban assault weapons.
Biden said the US has to act "for all those kids gunned down on our streets every single day that never make the news."
"I did it once before. I'll do it again," the President said, referring to his time in the Senate when lawmakers outlawed the weapons for a decade beginning in 1994. "It's not about taking away anybody's guns. In fact, we should be treating responsible gun owners as examples how every gun owner should behave."
Biden pointed to his own gun ownership, maintaining he is not opposed to firearms or constitutional protections to own guns. But he emphasized that there are limits to the Second Amendment, including on what types of weapons are legal to possess.
"The rights granted by the Second Amendment are not unlimited," he told supporters in Wilkes-Barre, Pennsylvania. "More children in America die from guns than active duty police and active duty military in the United States combined. We have to act."
In what appeared to be an effort aimed at galvanizing Democrats ahead of November's national elections, Biden ridiculed Republicans who have continued to defend former President Donald Trump's supporters who stormed the US Capitol on Jan. 6, 2021, overrunning barricades and clashing with law enforcement as lawmakers fled to secure locations.
"We're in a situation where to this day, the MAGA Republicans in Congress defend the mob that stormed the Capitol on Jan. 6," Biden said.
"Let me say this to my MAGA Republican friends in Congress. Don't tell me you support law enforcement if you won't condemn what happened on the sixth," the president said to raucous applause.
Biden is next expected to visit the key battleground state of Pennsylvania on Thursday to deliver a major prime time nationally-televised address. Pennsylvania is home to several key races in November's midterm elections, including an open US Senate seat where Democratic nominee John Fetterman holds a sizable lead over his Republican challenger, Mehmet Oz.
Fetterman leads by nearly eight points with just over two months to go, according to an average of polling compiled by the Real Clear Politics website.
The seat is critical for Democrats in the evenly-split Senate. It is currently held by outgoing Republican Sen. Pat Toomey. (Anadolu)