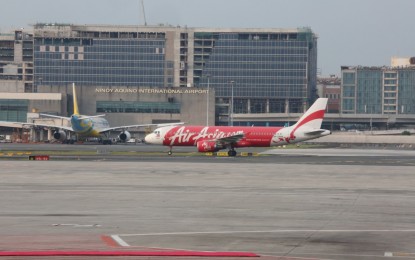 MANILA — AirAsia Philippines announced Wednesday it is adding flight frequencies to three Asean countries starting September 17 as it reopens more routes amid more relaxed travel protocols.
Flights between Manila and Bangkok, Thailand; Denpasar, Indonesia; and Kota Kinabalu and Kuala Lumpur, Malaysia will be seven times weekly from the current thrice weekly.
"Our strategy is to strengthen key markets in Asean which now have more relaxed travel protocols. These markets are also preferred by Filipino travelers based on the forward bookings made from 30-90 days," company spokesperson Steve Dailisan told the Philippine News Agency.
The carrier will continue to reopen and enhance connectivity in all its international destinations once market conditions improve, he said.
Dailisan said AirAsia is confident of the travel demand despite the threat of coronavirus disease 2019 (Covid-19) and viral disease monkeypox.
"AirAsia maintained its stringent implementation of multi-layered approaches to safety, highlighting the contactless touchpoints in the customer journey," he added.
Over two years into the global health crisis, Dailisan said they have seen their guests have willingly embraced the culture of safety by adhering to minimum health standards, such as regular hand washing and sanitizing and use of face masks throughout the duration of the flight, among others.
Meanwhile, AirAsia is urging passengers to arrive at the airport at least four hours before their flight schedule to avoid the traffic build-up around the vicinity.
They are also encouraged to be updated about the latest requirements in their destinations. (PNA)