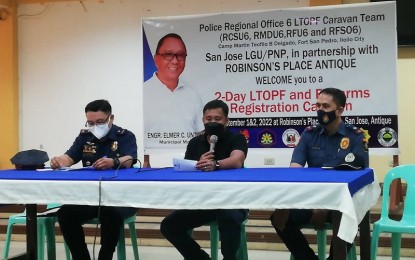 SAN JOSE DE BUENAVISTA, Antique – Owners of firearms with expired licenses from Antique are encouraged to avail of the two-day day license to own and possess firearm (LTOPF) caravan of the Police Regional Office in Western Visayas (PRO-6) from Sept. 1 to 2.
The caravan will be held at the Robinsons Mall in San Jose de Buenavista.
Record from the PRO-6 Regional Civil Security Unit 6 Firearms and Explosive Section showed there were 1,800 firearms with expired licenses in the province, the highest at 461 in the provincial capital of San Jose de Buenavista.
San Jose de Buenavista Vice Mayor Justin Encarnacion on Wednesday said Antiqueños should take advantage of the opportunity as they no longer have to travel to Iloilo City to renew their LTOPF.
"The LTOPF caravan will be spearheaded by the police with the coordination of our municipality," he said in an interview.
He also urged gun owners to strictly observe health protocols such as safe physical distancing when they apply for the renewal of their licenses.
Regional Civil Security Unit 6 Firearms and Explosive Section chief Lieutenant Richard Lumbres, in a press conference Tuesday afternoon, said many of the gun owners are already seniors and for the past two years they were unable to go to Iloilo City for license renewal due to the Covid-19 movement restriction.
"The police will be here for two days in order to assist the gun owners renew their licenses and for those needing to register their new firearms," Lumbres said.
He added that the caravan had already visited other provinces in Western Visayas such as Capiz, Negros Occidental, Iloilo, and Aklan since April this year and served 3,700 applicants in the renewal and new applications of gun licenses. (PNA)