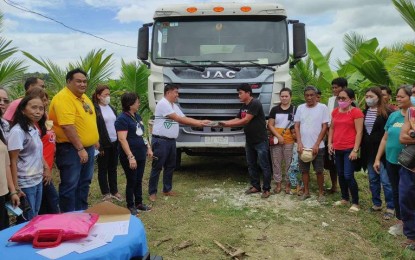 MEDELLIN, Cebu – In compliance with the directive of Department of Agrarian Reform (DAR) Secretary Conrado Estrella III to enhance the delivery of support services to the agrarian reform beneficiaries (ARBs), the DAR in Cebu province has turned over a hauling truck to the farmer-members of the Panugnawan Agrarian Reform Beneficiaries Association (PANARBA) to help sustain their sugarcane business.

DAR Provincial Agrarian Reform Program Officer Grace B. Fua said the truck provided under the DAR's Climate Resilient Farm Productivity Support Project (CRFPSP) costs PHP4.1 million.

"The 10-wheeler farm truck will be a great help in hauling harvested sugarcane and it will also address their need for cheaper transportation in transporting their produce," Fua said in a news release Wednesday.

Fua said the DAR, as the grantor of the farm truck, will monitor and evaluate the operation and management of the truck by the PANARBA.
On the other hand, the PANARBA as the grantee will provide the equity for the following: lot and construction of the garage, operating capital, and maintenance of the truck.

She also encouraged PANARBA to formulate and submit its business plan for the management of the farm truck as a business enterprise to benefit its 80 members.

"The hauling truck will serve as an added service of PANARBO to its members and non-members. The earnings from the low-rate rental of the truck will be used as a business asset of the organization and for the maintenance of the truck," Fua said.

PANARBA President William Auman thanked DAR for the hauling truck.

"This dump truck is a huge help for our farmer-members because of its lower rental fee compared to other rental trucking services," Auman said.

Auman promised the DAR to properly maintain the truck and to address whatever problems or challenges that their organization would encounter. (PNA)