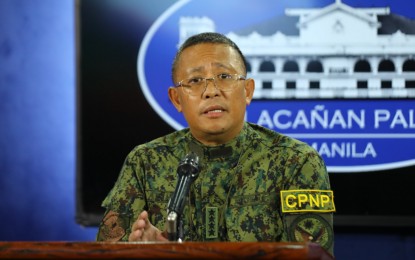 MANILA – More police officers will be deployed in malls, shopping centers, streets, and other establishments to prevent crime incidents during the "ber" months.
"As always, we anticipate the crime to go when the ber months come that is why I instructed our police not just in the National Capital Region for an increased police presence," said Philippine National Police (PNP) chief Gen. Rodolfo Azurin Jr. in a Palace briefing Wednesday.
He added that "presence" is more needed than visibility as this would mean that the cops would be engaging the sectors involved in protecting the citizenry such as village leaders.
"We will be deploying mobile patrols even to the point of deploying our SAF (Special Action Force). Our police officers must be on alert specifically in crime-prone areas. I have directed district directors to inform all village leaders with regards to their crime expectation so we would know where to deploy and the interventions needed for each village to work hand in hand," he added.
Azurin earlier said index crimes in the country have been on a steady downtrend during President Ferdinand "Bongbong" Marcos Jr.'s first 56 days in office.
The country's top cop said the trend has been observed when compared with data from the same period during the start of previous administrations -- 2010 (under former President Benigno Aquino III) and 2016 (under former President Rodrigo Duterte).
He said index crimes refer to offenses considered as serious in nature with sufficient frequency and regularity -- murder, homicide, rape, robbery, theft, carnapping, and physical injury.
From July 1 to Aug. 25 this year, theft cases decreased to 1,896 from 7,514 in 2016 and 12,773 in 2010 while physical injury cases also dropped to 579 from 3,777 in 2016 and 10,208 in 2010.
The same trend was also seen in cases of robbery (793 from 3,028 in 2016 and 6,580 in 2010; murder (649 from 2,332 in 2016 and 1,423 in 2010; carnapping (280 from 1,253 in 2016 and 1,169 in 2010); rape (903 from 1,666 in 2016 and 704 in 2010); and homicide (161 from 345 in 2016 and 614 in 2010).
He said the continuous monitoring and follow-up of cases and strategies by the investigators have contributed to improving crime clearance and solution efficiencies.
'Fine-tuning' security plans
Meanwhile, Azurin ordered the Directorate for Operations to reevaluate and fine-tune all operational plans and implementing guidelines for law enforcement and public safety operations of all police units for the holiday season.
"The traditional observance of the Holiday Season is one annual national event that Filipinos look forward to with great anticipation and enthusiasm as it coincides with the harvest season in the agricultural sector, year-end incentive payout for workers, academic break for students, and the religious observance of the Christmas," Azurin said.
He said this is to prevent criminals and other lawless elements from taking advantage of the season in carrying out their unscrupulous activities.
Azurin said part of the police's strategy is to saturate the communities with reassuring police presence as a deterrent to crime and target the hardening of soft spots and vulnerable environments where crime is likely to be committed.
"In the coming weeks, we expect to make some adjustments in deployment, probably including enhanced and extended nightshift duties, more foot and mobile patrols, and preventive crackdown against criminal elements," he added. (PNA)