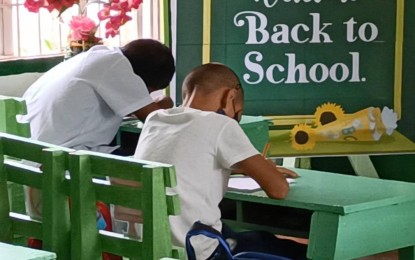 TACLOBAN CITY – The two-year home-based learning has affected the learners' early literacy skills, according to the observation of parents and teachers in Leyte province during the first few days of the resumption of face-to-face classes.
Arlene Adijas, 47, a mother of a Grade 2 learner of San Isidro Elementary School in Sta. Fe town, shared in an interview Thursday that teaching her child using self-learning modules was very challenging because of several distractions.
Last Aug. 22 was her son's first time to be inside a classroom since there were no in-person classes when she signed him up in Kindergarten and Grade 1.
"My son is already in Grade 2, but still he cannot read and not interested in learning how to read at all," Adijas said.
With the resumption of face-to-face classes, Adijas is grateful because learning is now school-based where there is less distraction and there are teachers tasked to guide and teach the children on basic literacy.
San Isidro school principal Jonathan Enage said during the first few days of classes, they noticed those in lower grade levels have problems in writing and reading, and even those in Grade 4.
"We noticed that even those in higher grade level also need guidance in writing and reading. But as days go by, we already noticed improvements. We hope to address the gaps within the first quarter," he added.
Enage said they are still in the process of identifying students who need intervention to improve their writing skills and reading comprehensions.
Among the interventions eyed is the provision of reading materials for them to practice at home.
Celso Sabalberino, Balud Primary School multi-grade teacher in Tanauan town, also noticed the same among his learners.
Sabalberino noted that since children were not physically present in classrooms from 2020 to early 2022, students have to do all their schoolwork at home, and some were having a hard time reading and writing.
"When I conducted the comprehensive literacy assessment, some of the pupils admitted to me that they still cannot read. What I have been doing is to focus my lesson on basic reading skills and numeracy activities. Once the pupils achieve the mastery, then we will proceed to other essential academic skills," he added.
Department of Education Eastern Visayas assistant regional director Bebiano Sentillas acknowledged that there were learning losses among early learners in this pandemic.
"What we are doing right now in the regional and district levels, we have initiatives to address learning losses, focusing on literacy skills and numeracy," Sentillas said in another interview.
The learning recovery initiative is dubbed "R8-Bulig" or Region 8 building and upgrading learning initiatives and gains. "Bulig" is the local term for help.
"R8-Bulig" aims to contribute to the DepEd's goal of developing holistic learners by improving the literacy and numeracy abilities of struggling learners across grade levels and learners.
To have better output and to reach more students, Sentillas said that they will need the support and assistance of their stakeholders in implementing the program to address the gaps and improve the learning literacy and numeracy of children. (PNA)