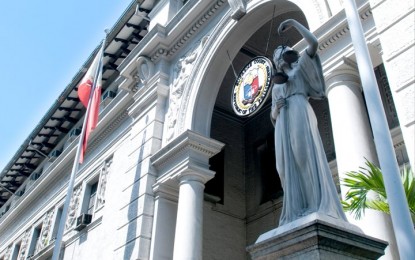 MANILA — Courts throughout the country have resumed full on-site work after two years of adjusted work schedule brought about by the coronavirus disease 2019 (Covid-19) pandemic.
Under the guidelines issued by Court Administrator Raul Villanueva for first and second level courts which takes effect Sept. 1, courts and judicial offices are fully operational and maintain a workforce of 100 percent at regular hours.
Regular hours have resumed in courts with personal filings allowed anew as long as strict health protocols are followed.
Night courts are also permitted to operate.
Jail visitation is covered by rules issued before the pandemic.
In separate orders, the country's appellate courts namely the Sandiganbayan, Court of Appeals (CA) and Court of Tax Appeals (CTA) announced that all stations shall resume full on-site working capacity of the entire workforce starting Thursday.
The orders were signed by the CA Presiding Justice Remedios Salazar-Fernando, CTA Presiding Justice Roman Del Rosario, and Sandiganbayan Presiding Justice Amparo Cabotaje-Tang.
Under the orders, on-site health and safety protocols must be observed and complied with at all times. (PNA)