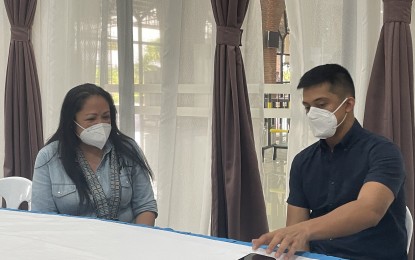 LAOAG CITY – Filipino-American Hollywood celebrity chef Vallerie Castillo-Archer is back in her homeland in Batac City, Ilocos Norte after more than three decades in the US.
Governor Matthew Joseph Manotoc welcomed her at the airport on Thursday, with a huge welcome tarpaulin waiting for her. The two earlier met at the posh Yamashiro restaurant in Los Angeles, California last July 15 where she works as the executive chef.
In a short interview at the airport, Castillo-Archer said she never expected to become the first Filipino executive chef at the iconic Hollywood restaurant but her passion for food and cooking brought her there.
Literally born inside a bakery owned by her grandfather in San Nicolas town also in Ilocos Norte, Castillo-Archer described her childhood as "the best," referring to how she enjoyed playing outdoors and spending her early years in the bakery before she reunited with her family in the US at age 6.
"No matter where you go and where you end up, the most important thing is to be humble. Always know where you came from and when you do get big, don't forget everyone who helped you along the way. That's the key to success and the way for us to grow and succeed," she said.
Now that she is home, the Fil-Am chef said a gift-giving program will be conducted in Barangay Baay, Batac City on Friday where she will be distributing around 500 shoes and backpacks to the less fortunate children in the community.
She said she was inspired to raise funds to buy shoes for the children in their village because of a fond memory she had as a child growing up in Ilocos Norte.
"I remember my grandparents gave me a new pair of shoes. My parents must have sent it because I remember my grandmother tracing my right foot and cutting it. This is how we used to send our shoe size to people who live abroad, so they get the right fit. The pair of shoes was so beautiful, I didn't want to wear them, I was used to wearing worn-out slippers or going barefoot when I went out to play. For us kids that lived in the province, that was normal. My grandparents would scold me whenever I came home, and my feet would be covered in mud," she recalled.
Through her fundraising drive, Chef Val hopes to purchase more shoes in the Philippines instead of getting them from abroad.
"I want to see the smile and the look on each kid's face and hug every one of them. I wish I could do more on this trip, but this is a start," she said.
For his part, the governor thanked the celebrity chef for bringing pride to Ilocos Norte and for giving back to the community. (PNA)