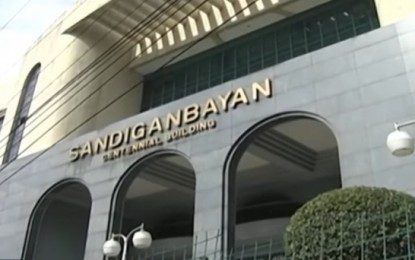 MANILA – The Sandiganbayan has acquitted two former senior officials of the Ombudsman accused of tampering official documents in 2013.
In a decision dated Aug. 26, the anti-graft court acquitted former Deputy Ombudsman for Luzon Mark Jalandoni and Assistant Ombudsman Nennette De Padua on multiple counts of removal, concealment, or destruction of documents.
The 2013 charges stemmed from an internal probe ordered by former Ombudsman Conchita Carpio-Morales following reports that the accused concealed documents already signed by then Acting Ombudsman Orlando Casimiro and ready for release.
The prosecution claimed the accused covered Casimiro's name and signature in documents with a patch of paper bearing his name. This made it appear that Jalandoni, and not Casimiro, was the official authorized to issue and withheld the release of the documents.
Jalandoni joined the Office of the Ombudsman as assistant ombudsman in 2006 during the time of former Ombudsman Ma. Merceditas Gutierrez.
He was appointed Deputy Ombudsman for Luzon in 2010 until his resignation in April 2011.
Gutierrez and De Padua also resigned in 2011 during the last days of the Arroyo administration.
The court said the body of the documents in question had not been altered.
Jalandoni claimed he had ordered the patching of the documents with him as "approving/disapproving" signatory as part of the review authority delegated to him by then Ombudsman Gutierrez on these cases.
Under the rules at the time, the Ombudsman can authorize another officer to review an action document even if it had been signed by another approving authority.
The accused said he did not order a retyping of the documents and resorted to the patching as a matter of practicality due to the number of cases involved.
On De Padua, the court said the prosecution did not detail her supposed participation, except that she supposedly knew of the patching.
"In the present case, the prosecution failed to overcome the presumption of innocence of Jalandoni and De Padua. This presumption continues until their guilt is proved beyond reasonable doubt. As earlier stated, criminal conviction must come from the strength of the prosecution's evidence and not from the weakness of the defense," it said.
The court said the testimony of Gutierrez would have been a welcome development in the cases.
"It is not for the court to second-guess why either party chose not to call her to the witness stand," it said, adding the prosecution carries the burden of proof in establishing the guilt of the accused.
Meanwhile, in a separate case, a former Pangasinan mayor has been convicted for falsification after signing the marriage certificate of a couple who complained that it was his son, the vice-mayor, who had acted as solemnizing officer.
In its decision written by Associate Justice Ma. Theresa Dolores Gomez-Estoesta, the anti-graft court sentenced former Pozorrubio, Pangasinan mayor Artemio Que Chan to up to eight years imprisonment and a fine of PHP5,000. (PNA)