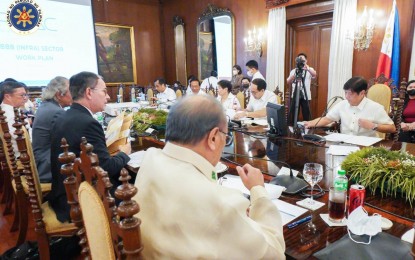 MANILA – President Ferdinand "Bongbong" Marcos Jr. on Thursday met with the Private Sector Advisory Council (PSAC) to explore possible cooperation for the development of infrastructure, water, and energy sectors.
The Office of the President (OP), on its official Facebook page, shared several photos taken during Marcos' meeting with PSAC at Malacañan Palace in Manila.
"President Ferdinand Romualdez Marcos Jr. meets with members of the Private Sector Advisory Council (PSAC) to discuss how Public-Private Partnerships (PPP) can help the Philippines improve its infrastructure, water, and energy services," the OP said.
Malacañang has yet to provide additional details about the meeting.
Marcos, in his first State of the Nation Address, vowed to put a premium on various fields, including infrastructure, health and energy.
Marcos held a series of meetings with the PSAC since he assumed the presidency on June 30.
The PSAC, in its meeting with Marcos in August, sought the expansion of the micro, small, and medium enterprises (MSMEs) in the country to create more job opportunities for Filipinos.
Following his meeting with the private sector, Marcos ensured that the revival of MSMEs is one of the administration's priorities.
MSMEs comprise 99.51 percent of business establishments in the Philippines and employ around 63 percent of the country's workforce.
Also in August, Marcos met with the PSAC to express his support for the plan to offer a "ladderized" program for nurses to strengthen the health sector and address the supposed "brain drain," or the departure of professionals from the country for better pay or living conditions.
The proposed ladderized program that will be adopted by the national government is already implemented by the University of the Philippines (UP)-Manila and select local government units (LGUs).
Under the program, UP Manila offers a two-year scholarship for midwives who come back to the community to serve upon course completion. Once they gain experience, they return to UP Manila to study nursing for another two years.
In July, Marcos, who concurrently serves as head of the Department of Agriculture, also expressed excitement over the possible partnership with the private sector to improve the agricultural sector.
The PSAC intends to regularly report to the President to provide feedback on what is happening on the ground and make recommendations on modern policy development. (PNA)